Louisville Personal Trainers. Delivered.
Find Your Trainer delivers you the best personal trainers in Louisville.
Train with a vetted and certified personal trainer
anywhere - a gym, your house, office, hotel or outdoors.
How Find Your Trainer Works
Find Your Match
Find the perfect personal trainer near you based on your goals, your personality, your lifestyle and your body.
Train Anywhere
Work out with trusted and vetted local trainers at your home, building gym, outdoors, or the gym. We'll bring the equipment.
Book & Pay With Ease
Effortlessly book and pay for a training session directly from the trainer's profile.
The Best Personal Trainers in Louisville
Louisville's Top In-home Personal Trainers
Best of 2018 - Check out these highly rated in-home personal trainers in Louisville
Gina Hoag
Gina Hoag is a certified personal trainer with over 20 years of experience in health and fitness coaching and sports specific training. Gina is also a clinical social worker in private practice. Gina specializes in pre- and post-rehabilitation, sports performance conditioning and senior specific exercise. With a background in dance, yoga and rock climbing, Gina's training style emphasizes functional movement, strength, power, endurance and core training.

Gina's exercise philosophy is that in order to have physical strength and fitness you have to start from the inside out. You are only as strong as your weakest link, and for most people, the weakest physical links are their lower back and their abdominals. Strengthening those areas forms the foundation of Gina's training programs.

Gina's philosophy on nutrition is based on a lifetime of clean eating and lessons learned about the important role of a balanced diet and mindfulness in healthy eating habits.

Gina believes in educating people about their body, and the importance of good posture in overall health. Many people have participated in fitness programs, physical activities or have an inactive lifestyle that have contributed to faulty movement patterns and muscle imbalances. Rather than continue to reinforce these patterns Gina spends time with clients retraining movement patterns using corrective techniques garnered from industry experts such as Gary Gray, Grey Cook and Pete Egoscue.
Train with Gina
Iisha Taylor
I train because I enjoy building others self confidence. Mines was low as a child until I became active. I had a stroke very young so I know what it is like to persevere through tough odds. Whixh is why I like to meet people where they are physical to build them up. I coached basketball for about 4 years mainly focusing on strength and conditioning. I fell in love with the process of see athlete get better behind the scenes and witnessing the hard work pay off on the main stage, GAME TIME! I am a drill sergeant when I need to be but I do my best to motivate my clients through to task. I like variety so workout may change often sometimes during a session if I see something I don't like or missed during evaluation. I like to have fun and I am very adaptable to most circumstances.
Train with Iisha
Joseph Tronzo
The process of building your fitness level is not one that has to be a painful one. Having worked with clients of all ages, ability levels, and fitness levels, I am able to customize a program specifically for your needs that takes an educated, safe, and feasible progression. The journey to reach your goals will be a challenging one, but together we will make it fun and rewarding.


Train with Joseph
John Quigley
I will train you to your limitations as well as toward your goals. When you are done with my workout you'll know you have worked hard but you will feel better than when you walked in.

It's not where you start, it's how you finish.
Train with John
Brad Longazel
Brad Longazel, MS, CSCS, USAW, ACSM, is a strength coach and has worked in physical therapy clinics as well as strength and conditioning facilities. He holds certifications from the National Strength and Conditioning Association and American College of Sports Medicine and is recognized as an Olympic weightlifting coach by the U. S. Weightlifting Association. Brad earned his master's degree in exercise physiology from the University of Louisville.


Train with Brad
Cathy Wilhoit
After a consultation to discover what your fitness and lifestyle goals are, Cathy will develop a personalized fitness and nutrition program that meet your specific needs. She looks forward to partnering with you on your journey to wellness. She is now training in the Tampa Bay area.

Train as hard as you can without doing damage to the body. That intensity may very every day.
Train with Cathy
Robert Minshall
Personalized one on one training in my fully equipped gym. Each program is tailor made for your body type and goals. I believe in treating everyone as an individual. We all have different goals, different fitness levels, and different amounts of time to devote to being fit and healthy.
Train with Robert
Amy Wacker
Growing up on a dairy farm in the small German town of Minster, Ohio, athletics were never pushed in my family. Yet, by joining my high school track team, I took my first step into fitness. After college, and still with very little body awareness, I decided to give CrossFit a try and began to see my muscles and competitive edge grow. I sought out many coaches and instructors, wanting to learn everything I could from them, and my "going out" money quickly turned into gym accessory money. It was through that process that I developed the desire to help others find the passion that so many had helped me discover, and I began pursuing a career as a personal trainer.

I am a CrossFit Coach and NASM certified Personal Trainer. I  plans to obtain my USPA and USAW certifications this year. I am also the owner of iPrep Delights. I provide a meal prepping service for any clients that are interested. Life is busy, and Health and fitness is what makes me truly happy. I desire to help others recognize that their athletic history and background do not have to limit their desires to live a healthy lifestyle. I want to be there to help my clients figure out whatworks best and makes it fun for them.

I want to help you fall in love with a better you. I train with a non-judgmental mindset, I like to get  close to my clients and motivate and encourage them to succeed on a daily basis. Keeping tabs is important so I will always be in your ear.  My outgoing personality is perfect for the culture I am building here. I have the mindset needed to help you peak your performance and achieve your personal strength and endurance goals. I was first introduced to CrossFit in 2009 by a friend, and fellow box owner. I had no previous athletic history and was very intimidated by what I saw. But I stuck with it and it has made me who I am today. Teaching fellow beginners and seasoned athletes all the same.

"May not be the best at snatches and I may not have the nicest squat. But I have come leaps and bounds through my CrossFit community and owe my current health and happiness to this sport. I would not change it for anything." I am passionate about sharing my knowledge to help clients achieve wellness and longevity.
Train with Amy
The Louisville FYT difference
Find Your Match
Our approach is different. We recommend personal trainers in Louisville based on you. Your goals. Your schedule. Your location. Your lifestyle. After all, this is personal training.
Find Your Match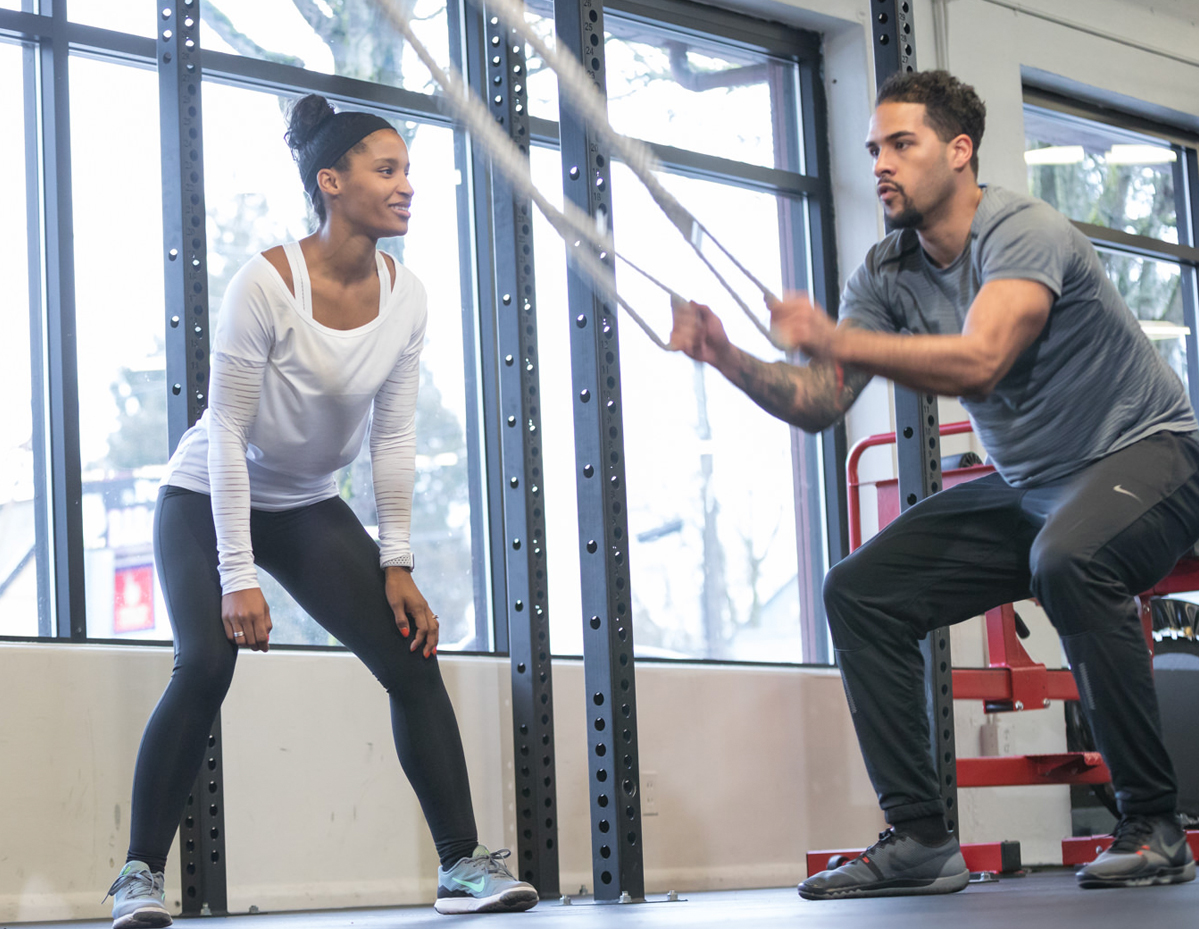 Find Your Trainer is proud to partner with the American Council on Exercise to achieve our shared mission to get people moving safely and effectively. With over 30 years of experience and over 70,000 professionals holding NCCA-accredited certifications, ACE continues to set the gold standard.
Learn More
Train In-Home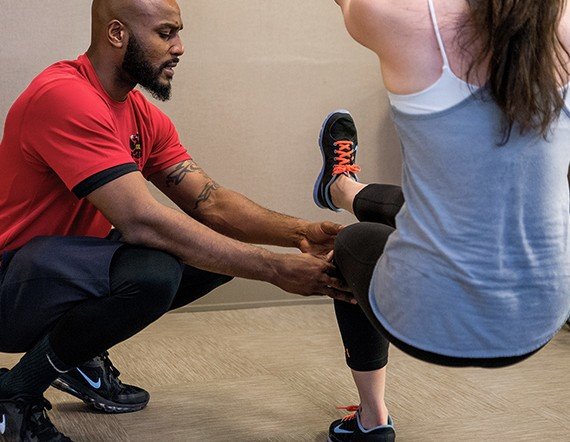 Our trusted and vetted Louisville personal trainers will meet you at your home, office, hotel or at the park. Schedule when and where it's most convenient and comfortable for you. And we even bring all the equipment.
About In-Home Training
Simple & Affordable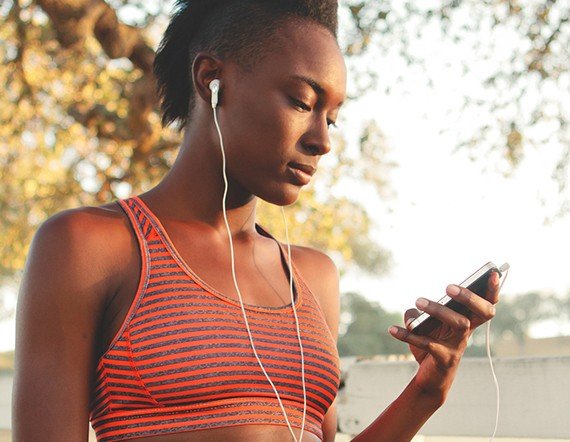 Search, schedule & pay for personal trainers in Louisville all from your desktop or mobile device.No sales pitches and no back and forth. No memberships. No contracts. No expensive packages.
Trusted & Secure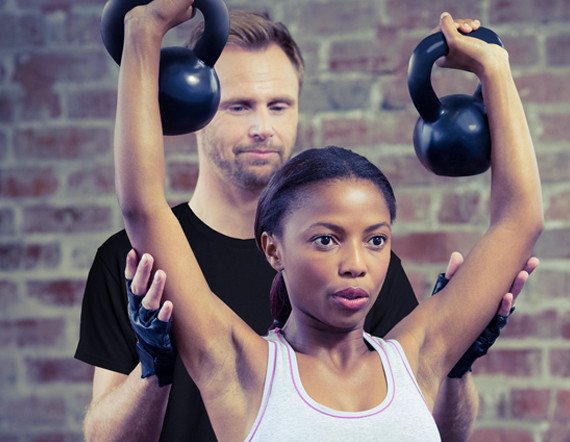 Pay securely and train safely with a vetted and insured Louisville personal trainer.
WHY YOU NEED A PERSONAL TRAINER
Faster
"My trainer is committed to getting the most out of the workouts and to reach beyond what I'd otherwise do by myself."
-ERIC M.
Exercising with personal trainer is the fastest and most effective way to increase your strength, cardiovascular fitness, and lean body mass.1 Period.
Effect of supervised, periodized exercise training vs. self-directed training on lean body mass and other fitness variables in health club members. J. Strength Cond Res. 2014 Jul;28(7):1995-2006.
Stronger
"I've been challenged. I've exceeded what I thought were my capabilities. I'm stronger now than I've ever been. I've never felt better."
-PATTY D.
Do things you never thought possible. Run that race. Fit into clothes you love. Get ready for that big day. Feel stronger and healthier than ever.
Smarter
"I love the personalization I get with each workout. My trainer is flexible to work with and welcomed me at my level of fitness so I didn't feel intimidated. But my trainer also pushes me farther than I ever thought I could go."
-TIFFANY R.
The right personal trainer will observe where you're at and take you where you want to be with a tailor made plan to help you to achieve your goals based on your body and your lifestyle.
Safer
"I was educated on the value of proper form and technique and couldn't have gotten to the point I'm at without personal training."
-KEVIN T.
Personal trainers specialize in the sweet spot between knowing your limitations and pushing you to the next level. You will always be improving and focusing on thoughtful training as a means of staying injury-free.
...And Fun!
"Every workout is a little bit different so my body and brain don't have time to dread what's coming! It's fun and interesting and, most importantly, super effective and efficient."
-MAGGIE G.
We know what physical fitness is about more than a workout. In order to see the results, consistency is key. A trainer will keep your workouts fun and challenging so that you stay motivated to achieve your goals.
THESE THINGS COST ABOUT THE SAME AS A PERSONAL TRAINING SESSION
There are splurges and necessities. All of the below items are similar in price to a training session but won't make you feel half as good. Invest in yourself!
MOVIE TICKETS & POPCORN FOR TWO
DINNER OUT AT A RESTAURANT