Need Clients?
Maximize your exposure to new clients and grow your business with
your FREE trainer profile. Access tools & resources that let you focus on doing
what you love the most - helping people achieve their goals.
Work with the Best.
Find Your Trainer is the top site in the US connecting clients and trainers
ranked by Google in the country.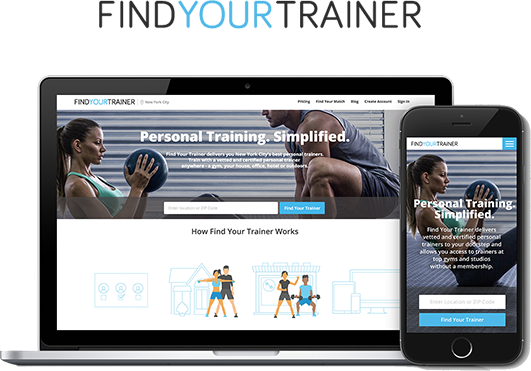 ●

Propietary matching algorithm

●

Online booking and payments

●

Ratings & reviews

●

FREE Facebook, Instagram, and Google advertising
What Our Pros Are Saying
"I leave the time-consuming job of promoting, marketing and advertising to the experts at Find Your Trainer so that I can focus on what I want -- helping my clients be successful."
-KERN ALEXANDER, CERTIFIED TRAINER
"Find Your Trainer has been my top source for gaining new clients and some of my best clients. FYT allows me to fill the gaps in my schedule so I can get clients at the times I prefer."
-DUSTIN HASSARD, CERTIFIED TRAINER
"Find Your Trainer jumps through hoops to bring the business to you. All I have to do is show up and execute a fantastic session with my clients."
-NOELLE MCKENZIE, CERTIFIED TRAINER
"After 12 years as a trainer, Find Your Trainer has made my transition from a gym employeeto an Independent Contractor simple, comfortable and rewarding."
-MAURICE CHRISTOVALE, CERTIFIED TRAINER
WHY WORK WITH FIND YOUR TRAINER?

Get New Clients & Make Great Money
Manage your entire personal training business on our custom-built platform. Get paid automatically every week, including no-shows and late cancels.

Train When You Want, Where You Want
You decide how many hours a week you want to train and when. Train at a gym or travel to clients - the choice is yours.

Focus On What You Love To Do
You became a trainer to help people and change lives. Leave the heavy lifting of marketing, tech, scheduling and billing to us.
Our Press
Find Your Trainer is the top site in the US connecting clients and trainers. You'll benefit from
additional exposure on 100+ popular news, lifestyle, health, wellness, fitness and technology blogs, media outlets and websites
such as InStyle, Shape, SiriusXM, Self, Men's Journal & many others.