The best way to find
a personal trainer in St. Louis
St. Louis's best vetted and insured personal trainers delivered to your home, park, or building gym.
or
Search All Trainers: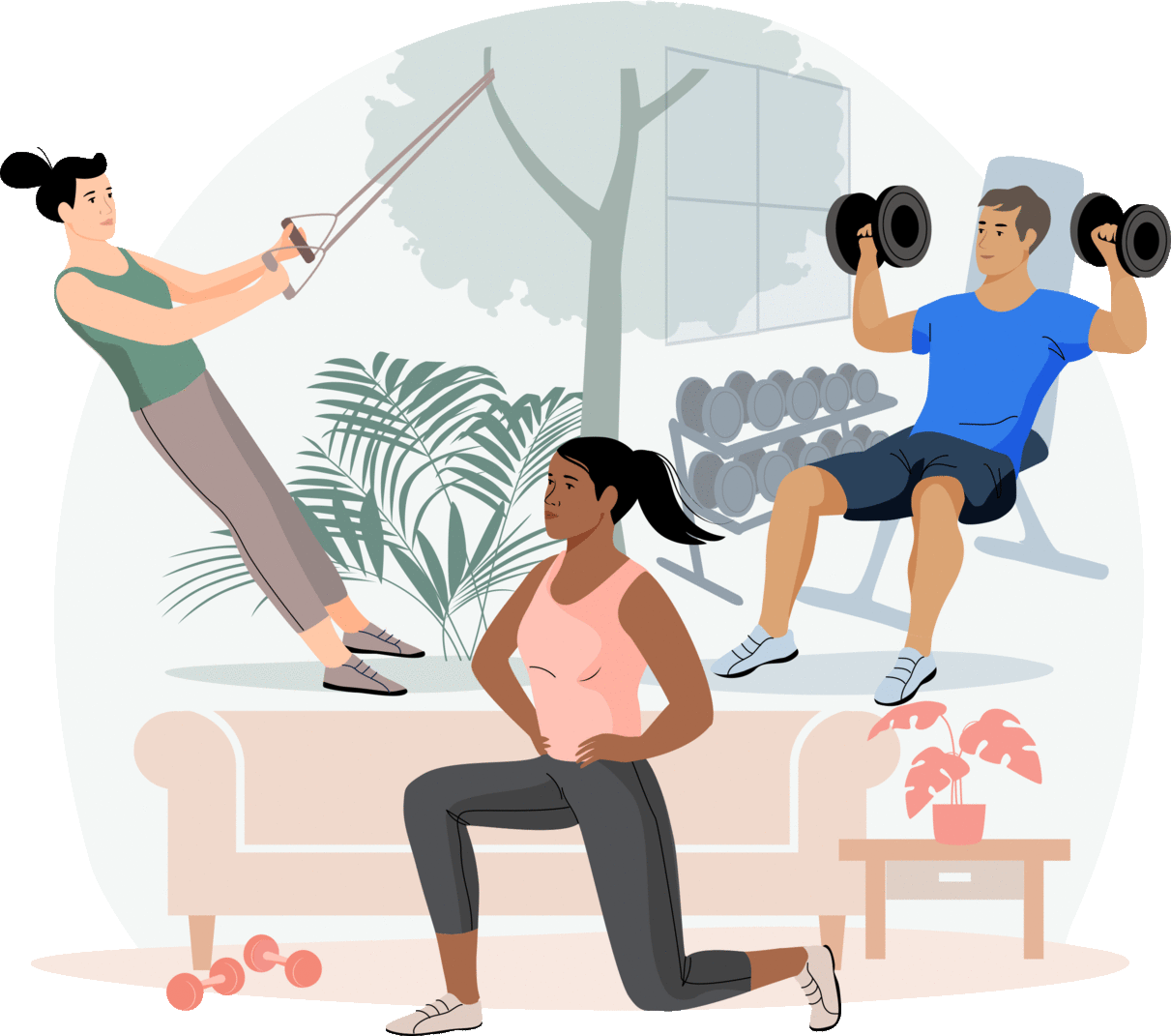 Take the first step to your healthiest self.
With Find Your Trainer, work out where you want,
when you want, with the trainer you want.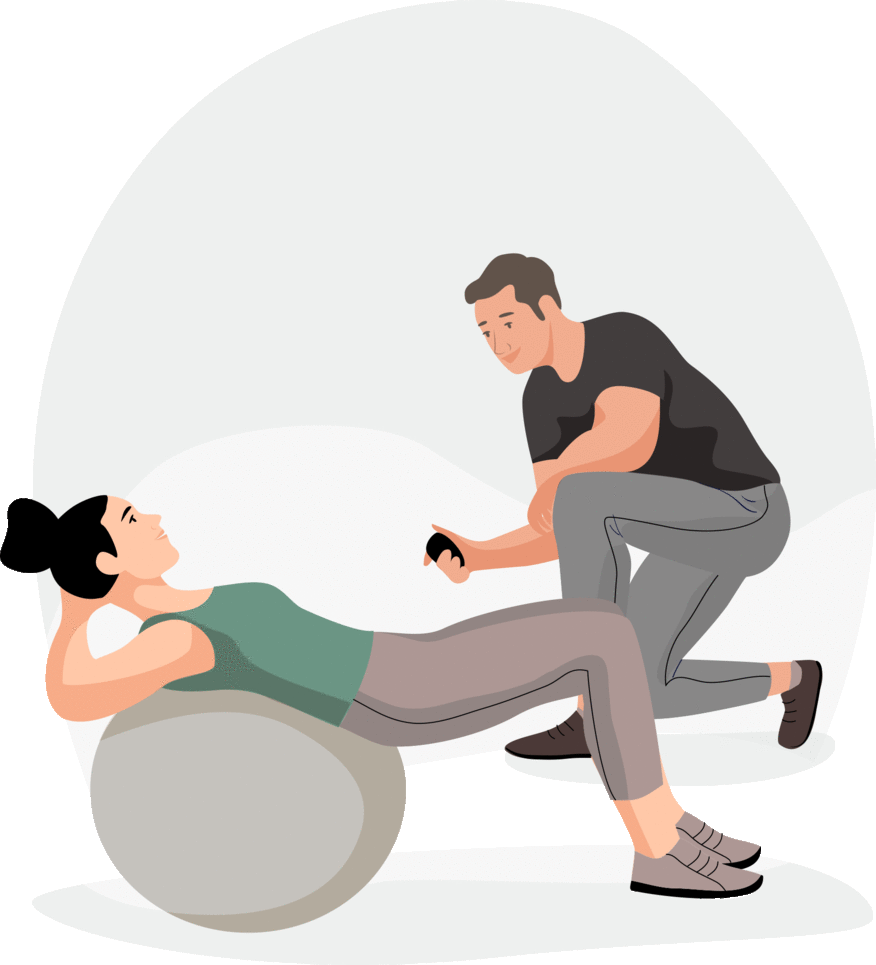 Let's face it, getting in shape can be hard. Our St. Louis personal trainers will create a personalized workout plan, show you what to do, and support you every step, stretch and rep of the way. We are committed to your long-term success.

FYT Pros have helped thousands of people just like you.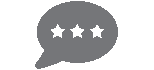 Read bios and reviews of personal trainers in St. Louis and pick the perfect one for you.
St. Louis personal trainer reviews

Great Experience
My experience with FYT was greater than I anticipated. The Trainer I picked Sarah Lowder has done a fantastic job - she has helped to improve my quality of life with her approach and training. I would recommend FYT if your looking for a trainer with qualifications and certified credentials.

Mary A
Excellent trainer, would use again. She is detailed, kind and supportive, very encouraging.

All-In-One
I easily found what I was looking for and I got everything I wanted and needed all in one spot. Kai is awesome! Very encouraging and understanding. I would recommend this site to anyone who wants to improve their health/appearance.

Excellent customer service
Tracy and David were quick to respond to a request I had.

Mary A
Mary is excellent, highly recommend her.

Custom Training is Great!
For my latest session with Maxwell it was unusually hot and because this is "personal" training Maxwell was able to modify my training in a way that was strenuous but appropriate for both me the heat. He watched me carefully to see that I drank enough water and rested when I needed to -...

Anisa was very professional and
Anisa was very professional and helpful. I think we will get along very well

Caylin is Awesome
She's always on time and pushes me to reach my goals!

The Best
Sarah's approach is amazing - she takes the time to listen to what you are trying to achieve and creates a program that works for you - when I finish my work outs - I have so much energy & confidence that I can't wait for the next session - thanks Sarah - You Rock
How it works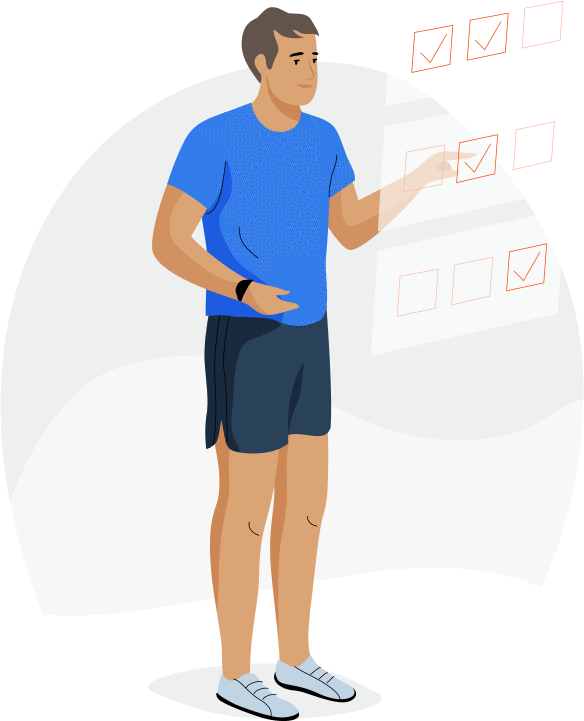 1. Take the quiz
Get matched & pick the
perfect local St. Louis trainer for you.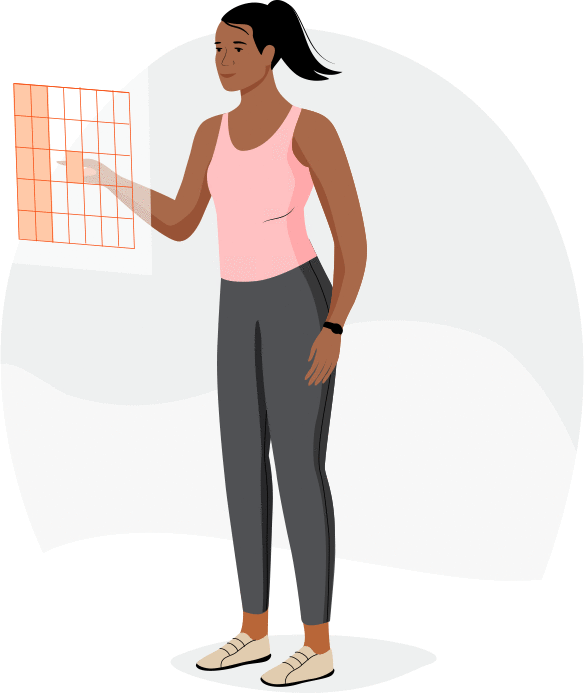 2. Book your session
Pick a time &
securely pay online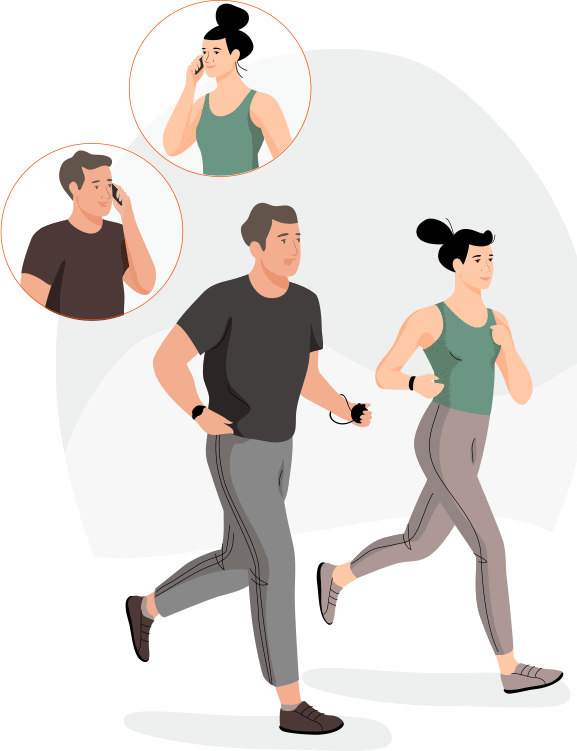 3. Get FYT !
Schedule your free phone
consultation & start working out!
The FYT promise
Why book with us? Find Your Trainer is the only company that provides these features when booking your
personal trainer. That means guaranteed total peace of mind during your fitness journey.

Money back guarantee
after your first session

All FYT pros are vetted,
certified and insured

Fully customized
workouts for all levels

Work with a dedicated
customer support team

93% 5 Star
Reviews
As seen in








The best personal trainers in St. Louis
Maurie C.
(12 reviews)
Maurie trained my husband and me for five years. She creates work-outs that are tough but exactly what we need. She's encouraging, attentive and very patient! She's a great personal trainer!
Train with Maurie
Christine S.
Are you ready to complete the picture of health? And effectively achieve all your goals? As a certified personal trainer and mastersm level counselor, I understand the benefits of being both physically and mentally strong. As we work together, we will make you become more fit, feel healthier, and work on those thoughts that are holding you back.
Train with Christine
Jeff M.
2-5min warm up
Then we go into the personalized session..

Each workout will be different everytime and each week will rotate with periodization training (toning, stabilization, power etc)

I Always cool down with some foam rolling and trigger point release therapy

I also train clients at my apartment gym too.

Personal Bio:

I've been a trainer since 2006 and I just recently moved to STL in 12/2015 to purse my doctorate in Chiropractic. I've trained clients that had strokes, no legs all the way to special forces military and everything in between. My last job of 9 years had over 8000 members
Train with Jeff
Sonny G.
My personal mission statement is to help motivate my clients into a healthier lifestyle. Having personally benefited from coaching and mentoring throughout my life, I know exactly how powerful and profound an impact we can have. That is why I, Coach Sonny Guzman, am committed to bringing the best coaching experience to as many individuals as possible.
During our training sessions, I will help breathe life and action into your fitness and health intentions, transforming them into concrete goals and then providing you with the information and motivation you need to turn those goals into motivating reality.

Coach Sonny Guzman
Train with Sonny
Ralph S.
I became a trainer to help uplift my community through physical, spiritual, mental
domains. I like individuals to be at the best of their abilities

I have worked with a few clients in the past who were mostly women.
Train with Ralph
Whitney T.
Hi and thank you for viewing my profile. I've owned my own In-Home Personal Training business since 2011. I can train you in my fully equipped home gym, travel to your home or train at a local park. I have helped many men, women and youth become stronger, become more toned, lose weight and gain balance and flexibility. We always discuss your goals and history before getting started to make sure I can provide you exactly what you are wanting.

Along with a long history of athletics, my background also includes 20+ years of Martial Arts Trainiing. I'm a fourth degree Black Belt in Tae Keon Do and a Certified Krav Maga Instructor. Many clients have enjoyed learning to box and kick with me. I also teach street self defense that I taught in Krav Maga classes. I've helped many youth feel more confident as they enter the age of college or driving and on their own more.

Working closely with my clients is always the highlight of my day. Getting to know them and help them in their journey is a privilege. Getting started is always the hardest part of a program. I'll help you by showing you that you can have success and feel good about improving your mind and body.
Train with Whitney
Jonah R.
I am Jonah Richardson, a recent graduate of Southeast Missouri State Univerity with my degree in dietetics as well as an ACE-certified health coach. I decided to go into the health and wellness field because as a child I was obese. Knowing what it feels like to have such low self-confidence drives me to help anyone feeling the same way. I want everyone to love the body that they are in, and I want to be the person they can come and talk to help develop a healthier lifestyle.
Train with Jonah
Mitch A.
Experienced Personal Trainer serving the Alton Illinois area and surrounding St. Louis area. I have been a vegan for over five years and at one point in my life went all the way raw as a fruitarian. I am very knowledgeable in the subjects of food and nutrition. My almost completed Bachelors degree in Premed Physiology gives me the ability to understand and teach you about your bodily functions and how you can achieve maximal results from fitness training (weight gains, muscle mass, weight loss). I typically work with long term clients who wish to reach higher levels of fitness (jump higher, kick harder, boxing, hypertrophy training). I have been training now for two and a half years and will continue to pursue my own personal fitness for life. If you are dedicated to our sessions I can help you change the way you feel and how you look in a very short amount of time.
Train with Mitch
Clint S.
Your workouts will be ever changing, so don't expect to do the same things each time. Expect a personalized workout, tailored to your fitness level and goals. I am there to encourage you to work at 100%, but also make sure you are pushing your limits and continuously improving. Workouts are social, loose and a lot of fun, but also challenging, so expect to sweat.

I believe in getting your body moving through space. Rarely will you be sitting while doing exercises. Rest times are important, but should be limited. This has been shown to increase your metabolism for up to 38+ hours post workout. So now you burn calories while at work the following day and sleeping at night.
Train with Clint
Common questions about personal training
How much does a personal trainer cost in St. Louis?
Personal trainers in St. Louis start at $49 per session. Nationwide, personal trainers cost between $49-$164 per session.
What impacts the cost of working with a Personal Trainer inSt. Louis ?
Session Location: Surprisingly, session costs are lower when the personal trainer travels to the clien... Show More
How do I find a personal trainer in St. Louis ?
Here is all you need to know to find the right personal trainer in St. Louis !
Certifications and Expertise: Most people in St. Louis choose personal training when they want to lose weight, be healthier, get stronger, or feel better. Your personal trainer must have an excellent understanding of human anatomy, physiol... Show More
Who is personal training for?
Personal training is for just about EVERYONE! Here are the most common:
Beginners: Whether you are a total beginner or it's been a while since you laced up the sneakers, working with a personal trainer is the best way to get a personalized workout plan, stay motivated and get results - all while staying safe! &n... Show More
What is In-Home Personal Training?
In-home personal training means that the trainer will travel to you - at home, in your building gym, at work or a local park. Work out on your terms, where you are the most comfortable. Here are some of the benefits of in-home personal training:
You Choose the Environment: In-home personal training is designed to allow you... Show More
Is a personal trainer worth it?
Deciding if hiring a personal trainer is ''worth it'' comes down to these four factors:
Results: Working with a skilled personal trainer is the fastest way to achieve results. Period. Your personal trainer will assess your current level, create customized training plans, choreograph every moment of the workout to ens... Show More
How do I become a personal trainer in St. Louis ?
Here's how to becoming a great personal trainer in St. Louis!
Certification: The best personal training certification programs require a personal trainer to complete courses in anatomy, physiology, nutrition, and exercise science. All trainers on Fyt are certified via an NCCA accredited organization which comp... Show More
Are you a St. Louis trainer?
Get new clients. Changes lives.