Kansas Personal Trainers. Delivered.
Kansas
Find Your Trainer delivers you the best personal trainers in Kansas.
Train with a vetted and certified personal trainer
anywhere - a gym, your house, office, hotel or outdoors.
How Find Your Trainer Works
Find Your Match
Find the perfect personal trainer near you based on your goals, your personality, your lifestyle and your body.
Train Anywhere
Work out with trusted and vetted local trainers at your home, building gym, outdoors, or the gym. We'll bring the equipment.
Book & Pay With Ease
Effortlessly book and pay for a training session directly from the trainer's profile.
The Best Personal Trainers in Kansas
Kansas's Top In-home Personal Trainers
Best of 2017 - Check out these highly rated in-home personal trainers in Kansas
Chad Derowitsch
Chad Derowitsch: Owner / Personal Trainer of KCFITCLUB. Chad turned his passion for fitness and nutrition into a successful personal training practice. After graduating from Wichita State University with a Bachelors in Exercise Science, he moved to Kansas City to pursue a career in personal training. He has been in the wellness industry for over 15 years working with clients with health issues to high-performance athletes. He has made balanced nutrition the cornerstone of his practice. Chad has dedicated himself to speaking out on the importance of nutrition and exercise.
Train with Chad
Seth Sines
Just like the mythological Phoenix from the ashes we will rise up reborn, renewed, and very much alive.
I constantly set new goals for my own advancement and surround myself with like-minded individuals who are pursuing the same high aspirations. To continue personal improvement, you should never become complacent. One should pursue something challenging and enjoy the journey toward that goal. I believe you have one body in your life and you owe it to yourself to develop the healthiest body you can. You get out of life what you put into it and that is the same with your body. You put in the hard work and fuel your body the right way anything you dream up is possible.
Train with Seth
Anthony Pluff
Health and Fitness is a lifestyle that I chose to adapt a long time ago. I enjoy the process of constantly improving myself everyday and am passionate about helping others do the same. Everybody has their own unique fitness journey, and I believe their training should be structured as such. I preach the importance of building a proper foundation in order to progress properly, and emphasize correct form in order to sustain long term health. I enjoy working with anyone who is willing to take the next step on the road to health and wellness and look forward to training you!
Train with Anthony
Jonathan Seay
I will provide safe, effective, and efficient training that will allow you to reach any fitness goal. My workouts are completely tailored to your specific needs and provide a great mental and physical challenge. You are guaranteed to have fun and learn something new each session. To your success!!
Train with Jonathan
Jamie Neal
Expect results when you train with me. I will give you the right workouts and tools to achieve success. I will provide you will a free customized nutrition plan and what you should be doing on your days when you are not training with me. Your workouts will be made especially for you and suited to your needs and goals.

My training philosophy is to train clients to the point that they can go to. If a client appears to be fatigued and needs to rest for a minute, I don't push beyond what a client can do at any given time. In time, clients' capacities increase and then they can handle a greater workload. I listen to my clients for feedback verbally and physically.
Train with Jamie
Ryan Bell
A challenging workout that will always be different. I expect hard work, as it is my passion to help others achieve their goals. I come ready to have a great time, get to know you on a personal level, and to help you break barriers both mentally and physically

My philosophy for training is simple; Strengthen the core, construct a body capable of completing functional exercises for everyday activity, increase endurance!
Train with Ryan
Brittany Cluck
Growing up, Brittany struggled with her weight and self confidence, but sports and fitness were always an outlet for her. Brittany has involved herself in all types of sports and activities from gymnastics as a young child, track, volleyball, basketball in middle school, to softball throughout high school to keep her going strong. As she got older she transferred the love for fitness to running and yoga to maintain her well being. She takes healthy living very seriously having grown up with a diabetic father, and becoming more aware of the obesity epidemic in America. Brittany is an Austinite at heart, as she recently moved to the Dallas area. The moment Brittany became involved in Lagree Fitness she fell in love with the entire program, so much that she decided to became a certified instructor to help others enjoy what she now loves, Lagree Fitness! Brittany's class will not only be a place to become a more physically fit person, but will educate you on your overall well-being while having fun.


Train with Brittany
Blaine Gamache
My style of training combines that of functional movement and single joint exercises into one program that will give you the best results. Over the years I have learned the ins and outs of diet and nutrition and how to use it to target different goals, whether that be for weight loss, performance, or show. I love working with all types of people from all walks of life. Whether your brand new to fitness or have prior experience, I have the tools necessary to help you succeed. My passion is to help others reach their fitness goals. I feel obligated to help because I know that I wouldn't be where I am today had many others not helped me in the same way. Whatever goals you have I will give every bit of me to make sure you get there. I'm ready to get you started on your own journey.


Train with Blaine
Chad Austin
My definition of Fitness is to constantly strive to be better than you were the day before, the week before, and the month before, in regards to your physical and mental health! Anything is possible in fitness when you take the right progressions to achieve it. I am a big advocate of the law of attraction, which simply states that you attract into your life whatever you think about. My clients learn right away that the phrase, I CAN'T DO IT is never allowed unless it is followed by the word YET. I am passionate about being a fitness professional, love being able to inspire change every day!

Everyone sees how important fitness is in living a healthy life, but many people still fail to make it a priority. Most of us have very busy schedules. Some have kids at home who are always involved in activities. Some have to travel a lot for work. We use all of these obstacles as excuses to eat unhealthy meals and skip workouts. We put fitness off because we think we are too busy in the present, and we tell ourselves that we will get to it when we have more time. The problem is that the day we are waiting for, when we will have more time to dedicate to getting in better shape, will most likely never come. The only way to begin living a healthier life is to make fitness a priority regardless of how busy you are. It won't always be easy, but it is a fight that anyone can win. All you have to do is make a decision to do it!
Train with Chad
The Kansas FYT difference
Find Your Match
Our approach is different. We recommend personal trainers in Kansas based on you. Your goals. Your schedule. Your location. Your lifestyle. After all, this is personal training.
Find Your Match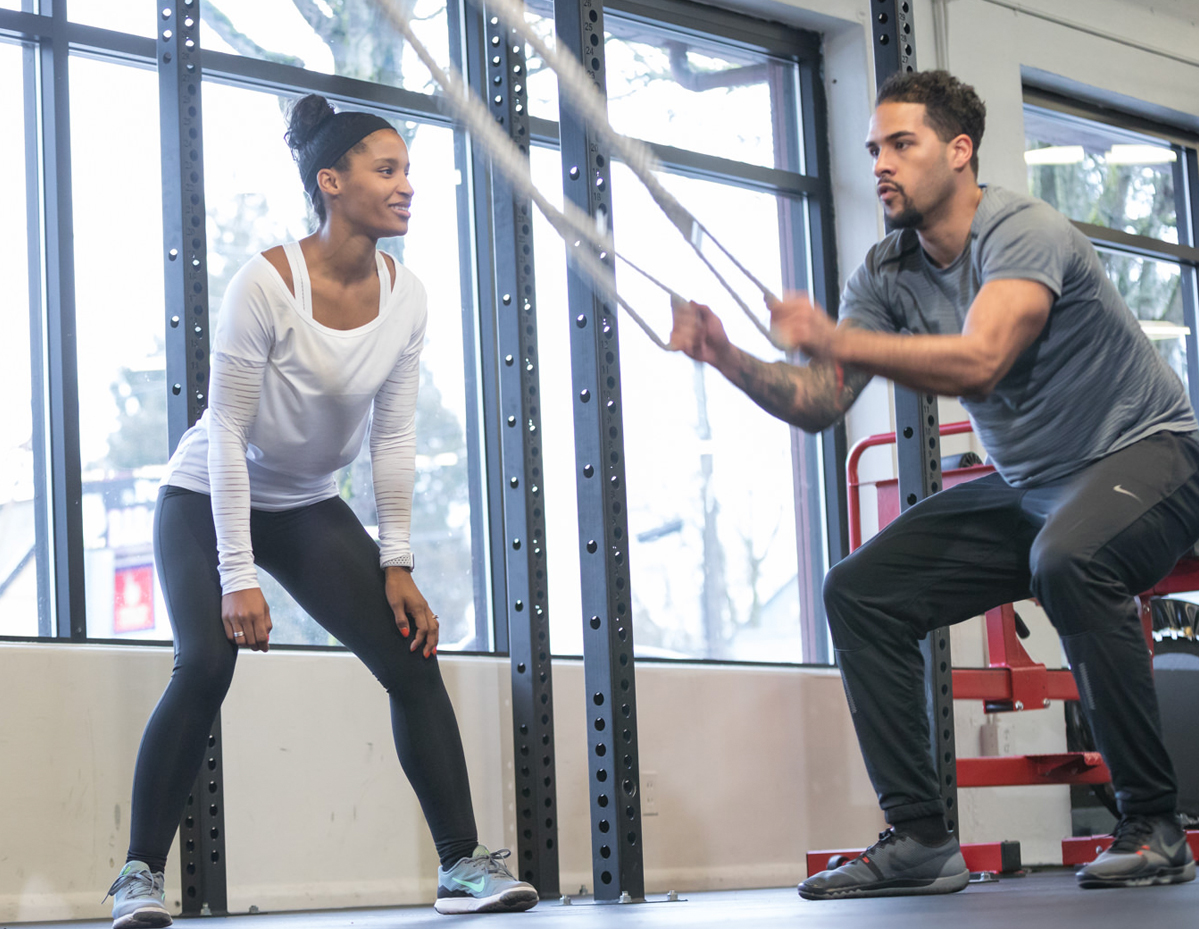 Find Your Trainer is proud to partner with the American Council on Exercise to achieve our shared mission to get people moving safely and effectively. With over 30 years of experience and over 70,000 professionals holding NCCA-accredited certifications, ACE continues to set the gold standard.
Learn More
Train In-Home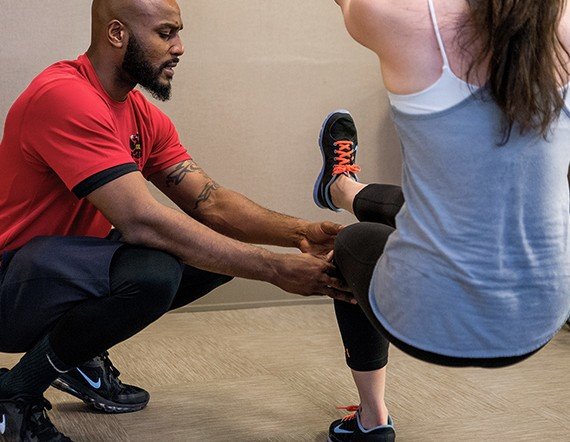 Our trusted and vetted Kansas personal trainers will meet you at your home, office, hotel or at the park. Schedule when and where it's most convenient and comfortable for you. And we even bring all the equipment.
About In-Home Training
Simple & Affordable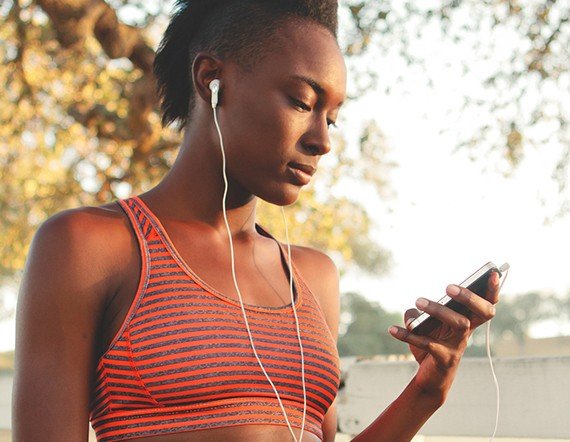 Search, schedule & pay for personal trainers in Kansas all from your desktop or mobile device.No sales pitches and no back and forth. No memberships. No contracts. No expensive packages.
Trusted & Secure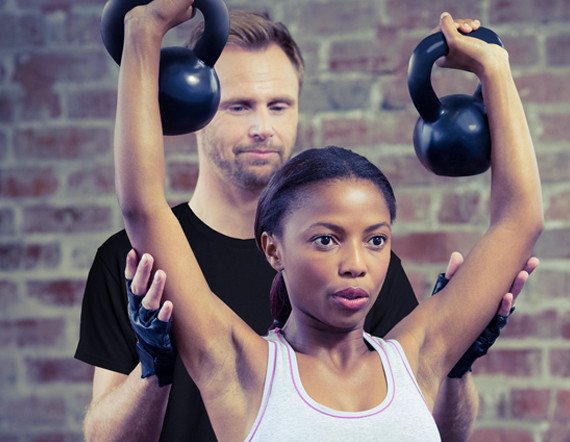 Pay securely and train safely with a vetted and insured Kansas personal trainer.
WHY YOU NEED A PERSONAL TRAINER
Faster
"My trainer is committed to getting the most out of the workouts and to reach beyond what I'd otherwise do by myself."
-ERIC M.
Exercising with personal trainer is the fastest and most effective way to increase your strength, cardiovascular fitness, and lean body mass.1 Period.
Effect of supervised, periodized exercise training vs. self-directed training on lean body mass and other fitness variables in health club members. J. Strength Cond Res. 2014 Jul;28(7):1995-2006.
Stronger
"I've been challenged. I've exceeded what I thought were my capabilities. I'm stronger now than I've ever been. I've never felt better."
-PATTY D.
Do things you never thought possible. Run that race. Fit into clothes you love. Get ready for that big day. Feel stronger and healthier than ever.
Smarter
"I love the personalization I get with each workout. My trainer is flexible to work with and welcomed me at my level of fitness so I didn't feel intimidated. But my trainer also pushes me farther than I ever thought I could go."
-TIFFANY R.
The right personal trainer will observe where you're at and take you where you want to be with a tailor made plan to help you to achieve your goals based on your body and your lifestyle.
Safer
"I was educated on the value of proper form and technique and couldn't have gotten to the point I'm at without personal training."
-KEVIN T.
Personal trainers specialize in the sweet spot between knowing your limitations and pushing you to the next level. You will always be improving and focusing on thoughtful training as a means of staying injury-free.
...And Fun!
"Every workout is a little bit different so my body and brain don't have time to dread what's coming! It's fun and interesting and, most importantly, super effective and efficient."
-MAGGIE G.
We know what physical fitness is about more than a workout. In order to see the results, consistency is key. A trainer will keep your workouts fun and challenging so that you stay motivated to achieve your goals.
THESE THINGS COST ABOUT THE SAME AS A PERSONAL TRAINING SESSION
There are splurges and necessities. All of the below items are similar in price to a training session but won't make you feel half as good. Invest in yourself!
MOVIE TICKETS & POPCORN FOR TWO
DINNER OUT AT A RESTAURANT