Mississippi Personal Trainers. Delivered.
Find Your Trainer delivers you the best personal trainers in Mississippi.
Train with a vetted and certified personal trainer
anywhere - a gym, your house, office, hotel or outdoors.
How Find Your Trainer Works
Find Your Match
Find the perfect personal trainer near you based on your goals, your personality, your lifestyle and your body.
Train Anywhere
Work out with trusted and vetted local trainers at your home, building gym, outdoors, or the gym. We'll bring the equipment.
Book & Pay With Ease
Effortlessly book and pay for a training session directly from the trainer's profile.
The Best Personal Trainers in Mississippi
Mississippi's Top In-home Personal Trainers
Best of 2018 - Check out these highly rated in-home personal trainers in Mississippi
Luke Neyland
I am a professional MMA and Muay Thai fighter. I have been an athlete all my life since childhood i began competitively fighting in 2007 and became a trainer in 2008. I have trained everyone from elderly women to professional athletes. I am very patient and supportive but also. Direct and uncompromising when it comes to getting out of you everything that it takes to smash your goals!
Train with Luke
Suzanne Edington
I was over weight most of my life. After my first child I realized I needed to do something. I taught and trained myself and fell in love with fitness. I decided that I should help others so I became a certified trainer.
I try to keep my schedule flexible to work around my clients bust schedules. If you need a time that is not listed as available send me a message, if I am able we can make it work.
Train with Suzanne
Christine Jaegers
I love to help others lead a healthier lifestyle one day at a time! Small changes can add up quickly and I'm here to help keep you going day by day!
Train with Christine
Bobby Sampson Jr
I will help you build a stronger body by teaching you how to use your own body. I could help with lower back pain. I can help you gain muslce and a lean athletic body with Calisthenics. For example, if you would like a bigger stronger shoulders whille putting more emphasis on the upper chest, then we would accomplish this by doing handstand push ups. bigger shoulders with lower chest empahsis then we would do dips. Want to ease your mind and learn how to deal with stress or increase your focus? Then we do balance poses, but overall movements in calisthenics helps build focus.
If you are a basketball player, then learning how to control your body in the space around you, and building functional movement will benefit you. Overall doing calisthenics can benefit everyone! Even if you are a yogi or crossfiter, wanting to gain extra strength, or an overall different approach to fitness calisthenics could help you.
I love calisthenics and yoga because the feeling of freedom to move beyond space anytime anywhere. I will give you knowledge that could benefit you for the rest of your life. I see this profession as me giving you tools to ulitize in the way you see fit.
A little info on Calisthenics: Calisthenics is great to build up strength, muscle, cordination, stability, mobility, and an overall athletic body. Calisthenics is the grace of movement. The word calisthenics translates into beautiful strength; it is the mastery of your bodyweight. Some people also call it street gymnastics. There are progressions for every move to take the unneccesnary sturggle out of mastering a move.
You can pick your goal of either strength training, hypertrophy training, or strength endurance. The biggest differenece in these are the number of reps within each set. You could also pick your goal with working on dynamic and/or static muscle contraction.
sessions do not have to be long it could be anywhere from 30min to 90min
Train with Bobby
Denise Moulier
As a busy business professional since an early age, very quickly I found myself overweight reaching over 195lbs. I discovered cycling in 2006 and my life was never the same. Shortly after that I discovered triathlons and figured this would help me lose the weight. I was always on a diet rollercoaster never really maintaining a healthy weight. Moving to MS in 2010, despite I was training for my first ½ Ironman. I was still overweight (165lbs). Joining a local fitness studio that truly inspired me and showed me nutritional eating habits that would educate me on how to change my eating habits and discover a true lifestyle change. My goal is to help you achieve a life style change and take control of their lives as I did.


Train with Denise
Ebony Cooper
All clients can expect proper instruction on weight loss, form, muscle building, core and cardio strengthening and nutrition! Expect results because I'm committed to YOUR commitment, determination and drive. Weight loss and fitness is a journey. A journey into the new normal. A new normal of mental and physical wellness. Everyone has different goals, and I realize that everyone needs something that sparks their interest and makes them want to workout with the same passion I have for my own training. Motivation comes from results! Results come from a well executed plan. I am here with a whole heart to help you through this walk. My personal training philosophy goes beyond simply going through the motions and counting reps. It is about making a decision to change your life and taking the necessary steps to make it happen. I take a whole body approach so that my clients will see and feel the personal training benefits. Everyone has different goals, and I realize that everyone needs something that sparks their interest and makes them want to workout with the same passion I have for my own training. Motivation comes from results! Results come from a well executed plan. With motivation, dedication and education you can do it and I can help! Changing your life is a journey and I will be there to support you, motivate you and make sure you enjoy every step along the way.
Train with Ebony
Melanie Wiggins
Someone that trains with me should expect to work hard! I'm not the drill instructor type, but I will motivate you to exceed your own expectations! I will be your coach, your accountability partner, and your biggest cheerleader! Let's get started on the new you!


Train with Melanie
Stevey Gaddis
I am Stevey Gaddis CPT thru the IFPA. I have been in the fitness industry most of my life. I love living a healthy lifestyle and it's "no brainer" for me to pass that on to others. It's up to you to make the call... together we'll get it done!

YOUR HEALTH IS YOUR LIFE. Life can already be tough on us at times. Thru my experience the healthier you are the better "everything" is. Working out should be included in one's life just like getting up to go to school or work everyday. I promise you, your fitness level not only helps you look and feel better, but helps you deal with stress, solve problems, gives you focus, boosts confidence, and so much more. It's an investment in your future health... It's better to pay a little along the way now - than to have the medical bills pile up later because you chose to do nothing. Call me, and let's come up with a plan of action.
Train with Stevey
The Mississippi FYT difference
Find Your Match
Our approach is different. We recommend personal trainers in Mississippi based on you. Your goals. Your schedule. Your location. Your lifestyle. After all, this is personal training.
Find Your Match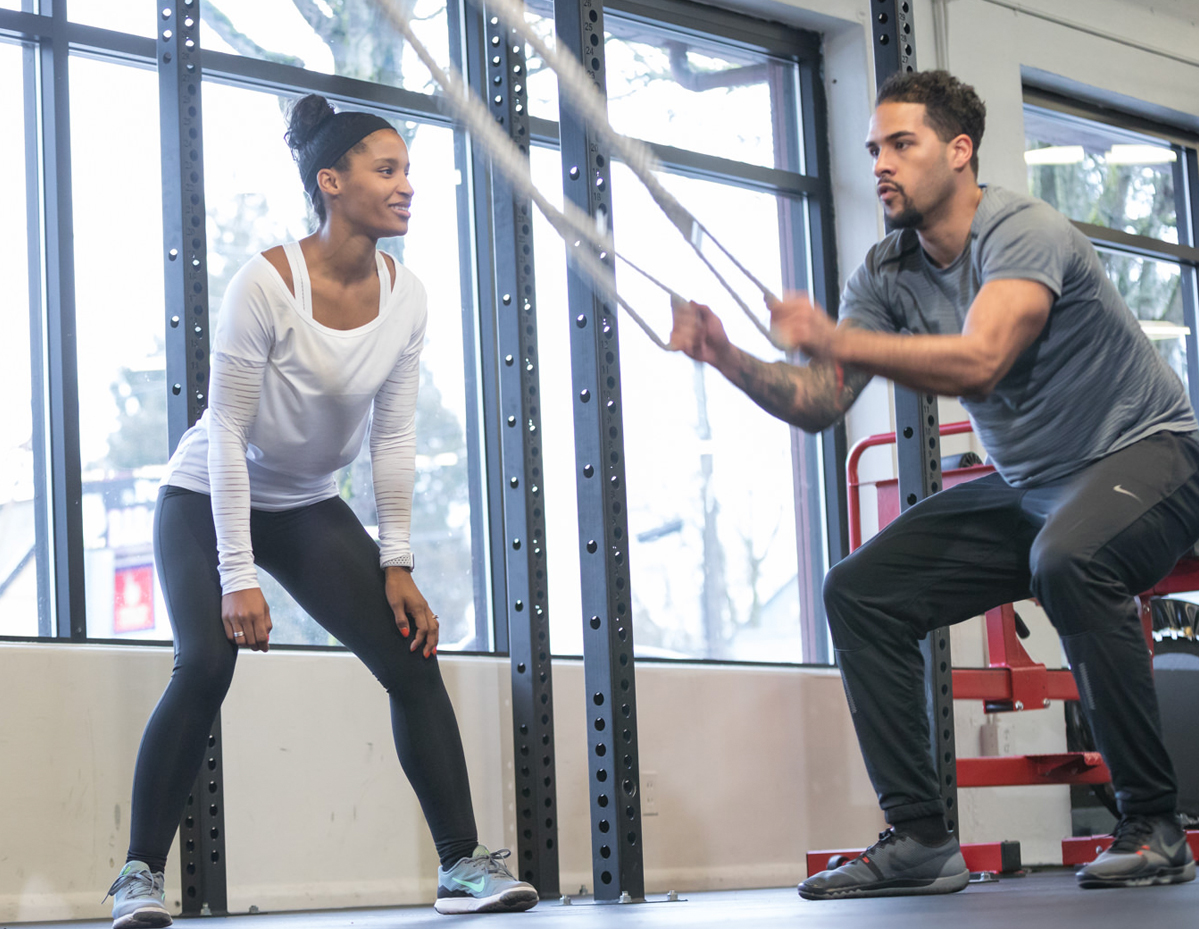 Find Your Trainer is proud to partner with the American Council on Exercise to achieve our shared mission to get people moving safely and effectively. With over 30 years of experience and over 70,000 professionals holding NCCA-accredited certifications, ACE continues to set the gold standard.
Learn More
Train In-Home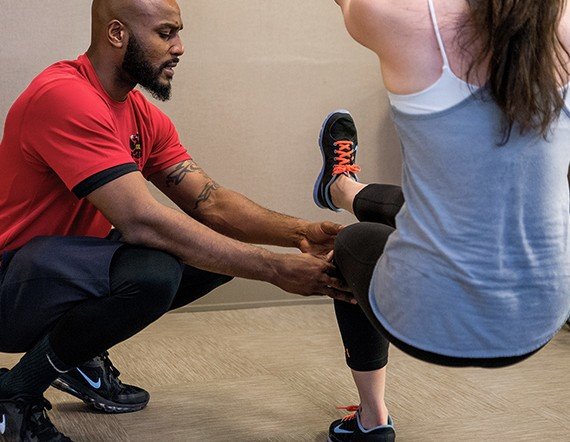 Our trusted and vetted Mississippi personal trainers will meet you at your home, office, hotel or at the park. Schedule when and where it's most convenient and comfortable for you. And we even bring all the equipment.
About In-Home Training
Simple & Affordable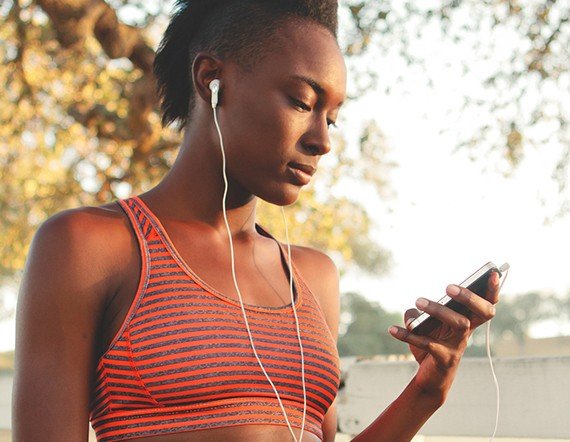 Search, schedule & pay for personal trainers in Mississippi all from your desktop or mobile device.No sales pitches and no back and forth. No memberships. No contracts. No expensive packages.
Trusted & Secure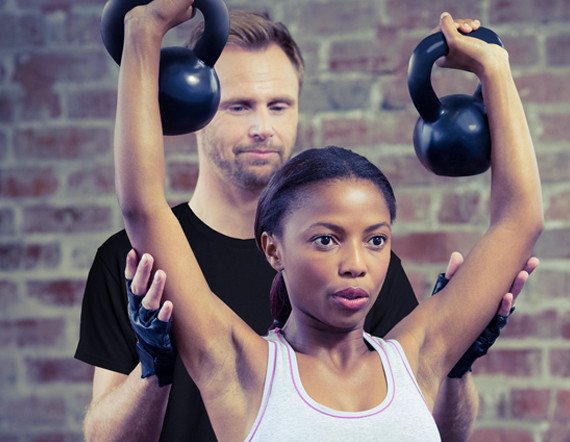 Pay securely and train safely with a vetted and insured Mississippi personal trainer.
WHY YOU NEED A PERSONAL TRAINER
Faster
"My trainer is committed to getting the most out of the workouts and to reach beyond what I'd otherwise do by myself."
-ERIC M.
Exercising with personal trainer is the fastest and most effective way to increase your strength, cardiovascular fitness, and lean body mass.1 Period.
Effect of supervised, periodized exercise training vs. self-directed training on lean body mass and other fitness variables in health club members. J. Strength Cond Res. 2014 Jul;28(7):1995-2006.
Stronger
"I've been challenged. I've exceeded what I thought were my capabilities. I'm stronger now than I've ever been. I've never felt better."
-PATTY D.
Do things you never thought possible. Run that race. Fit into clothes you love. Get ready for that big day. Feel stronger and healthier than ever.
Smarter
"I love the personalization I get with each workout. My trainer is flexible to work with and welcomed me at my level of fitness so I didn't feel intimidated. But my trainer also pushes me farther than I ever thought I could go."
-TIFFANY R.
The right personal trainer will observe where you're at and take you where you want to be with a tailor made plan to help you to achieve your goals based on your body and your lifestyle.
Safer
"I was educated on the value of proper form and technique and couldn't have gotten to the point I'm at without personal training."
-KEVIN T.
Personal trainers specialize in the sweet spot between knowing your limitations and pushing you to the next level. You will always be improving and focusing on thoughtful training as a means of staying injury-free.
...And Fun!
"Every workout is a little bit different so my body and brain don't have time to dread what's coming! It's fun and interesting and, most importantly, super effective and efficient."
-MAGGIE G.
We know what physical fitness is about more than a workout. In order to see the results, consistency is key. A trainer will keep your workouts fun and challenging so that you stay motivated to achieve your goals.
THESE THINGS COST ABOUT THE SAME AS A PERSONAL TRAINING SESSION
There are splurges and necessities. All of the below items are similar in price to a training session but won't make you feel half as good. Invest in yourself!
MOVIE TICKETS & POPCORN FOR TWO
DINNER OUT AT A RESTAURANT
11 Mississippi Personal Trainers
Specialties:
Strength Training
Weight Loss
Certifications: NCSF Certified Personal Trainer
Training Locations: Brandon, MS - Jackson, MS - Madison, MS - Ridgeland, MS
1-on-1:
$89/hr
|
Partner:
$67/person
|
Small Group:
$29/person
I turn ordinary people into fitness warriors! If you are serious about results in any of the following areas, and would like to train like a champion, I'm your gal: Private Training, Boot Camp, Corporate Fitness, Strength and Conditioning, Powerlifting, Cycling, Circuit Training, Fitness Training, Kettlebell Training, Private Boxing Instruction.


Specialties:
Strength Training
Weight Loss
Massage
Certifications: NCCPT Certified Personal Trainer
Training Locations: Oxford, MS - Taylor, MS
1-on-1:
$149/hr
|
Partner:
$112/person
|
Small Group:
$49/person
Personal Training via email, social media, or in person. Group fitness, fully customized meal plans, and supplements available. References available upon request.

I believe in goal based orientated training. Health and Fitness are about exercise, rest and nutrition. These three factors I feel have to be in balance to see true, lasting results with any routine. There is a nutritional consultant for all nutritional needs to be address. Whole foods are the foundation of any healthy body. Supplementation is available depending on your goals.