Cleveland Personal Trainers. Delivered.
Find Your Trainer delivers you the best personal trainers in Cleveland.
Train with a vetted and certified personal trainer
anywhere - a gym, your house, office, hotel or outdoors.
How Find Your Trainer Works
Find Your Match
Find the perfect personal trainer near you based on your goals, your personality, your lifestyle and your body.
Train Anywhere
Work out with trusted and vetted local trainers at your home, building gym, outdoors, or the gym. We'll bring the equipment.
Book & Pay With Ease
Effortlessly book and pay for a training session directly from the trainer's profile.
The Best Personal Trainers in Cleveland
Cleveland's Top In-home Personal Trainers
Best of 2018 - Check out these highly rated in-home personal trainers in Cleveland
Courtney Ross
(5 reviews)
I have been working with Courtney for 2 months on a functional problem with my back and neck. This issue has been troubling me for approximately 20 years, as a result of a bicycle accident with a car. Courtney has helped me increase my flexibility and mobility in those areas. I highly recommend Courtney as a personal trainer and coach. Courtney has been great for me and my issue with my back neck, and diet.
Train with Courtney
Marli Ali
Hi, My name is Marli Ali. I've been training myself and others on and off for the last 10 years. I work also as a vegan personal chef and provider of shopping assistance and healthy meal preps. My objective is to connect and elevate the mind, body and soul as one, using meditation, physical training and a electric food diet. I've worked with different clients from 24-40 years of age. I'm very open to working with any and everybody with the mindset that they want to become the greatest versions of themselves. I can work at any pace and whatever works for the client. Letting me know your vision is all we need to begin working on your desired outcome. I became a trainer because I believe health is wealth and I wanted to use talents of mind to help others grow during their journey, the same way someone helped me along mine
Train with Marli
Christopher Walker
Young certified fitness enthusiast from Cleveland, Ohio, who is obsessed with improvement in all areas of life. National Strength and Conditioning Association (NSCA), National Personal Training Institute (NPTI) certified, and working on furthering my knowledge in this field. Have worked with a wide range of clients from younger athletes who have specific performance goals, to baby boomers who just have general fitness/wellness goals. Looking to train those who are going to be dedicated to their goals so we can work together to reach these goals.
Train with Christopher
Kim Hillier
I get it! Getting and staying fit isn't always easy, but it is necessary. Life is just more comfortable if we are healthy. In 2015 life drastically changed for me. I decided "enough is enough!" I needed to get control of my nutrition and my body/health. Those were the 2 things I could control. So I DID! I went from an unhealthy 180 lbs, sedentary single mom and school teacher to an OCB figure competitor. Now, 4 years later, it is a lifestyle, not a fad. I decided to make some major life changes and get back to my fitness roots. In my mid 20's I was a group fitness instructor and managed a local Elaine Powers. In my 30's I beacme a 2nd degree brown belt in Kenpo karate and an aerobic kickboxing instructor. I have been a middle and high school English teacher for 23 years and I was a VHSL Cheerleading coach for 3 years. Now, I want to spend the next 20 or 30 years helping others attain their fitness goals. This is why I became an ACE Certified Personal Trainer. IF I CAN DO IT, SO CAN YOU! Contact me, and let's get started today creating the healthy life you've always wanted.
Train with Kim
Carol Griffith
I realize how hard making a decision to hire a personal trainer can be because I was in your shoes. At one time in my life I was very obese and I made the decision to hire a personal trainer and it was the best decision I ever made. I learned that working out and eating healthy can be very rewarding and it takes a team effort to get there. My training consists of dynamic warm ups, followed by strength conditioning, footwork development, jump rope, shadow boxing, heavy bag, speed bag, mitt training and sparring. By the end of my session you will know you had a great workout and you will start to see your body transform into the body you always wanted to have and we will have a lot of fun getting there.

Determination Dedication Discipline
Train with Carol
Mike Hamilton
My Training Style
Motivate Me Mike is personal training with a purpose. I specialize in functional, constantly varied, interval strength training. My system of recording all of your reps, weights, and times so I can show you exactly when you're better is truly motivational. I measure your waist and test your fat % every month as well, so you can see your by-the-numbers results!!
Finally, I make sure to give you "wellness tasks" that range from diet advice to healthy lifestyle changes, so that you can keep moving up on your days off. I also use an amazing free app so that you can track all your food and show me your progress.
My Bio
I started my career in the Army National Guard. I served 7 years and retired as a Sergeant. During that time, I deployed to Afghanistan and distinguished myself as "fit among the fit" by achieving the Army Physical Fitness Badge. No worries though, I don't train my clients like they're soldiers. I apply the latest exercise science to meet my clients exact needs.
It was my struggle with ADHD that pulled me into a life of health and fitness. I wanted desperately to rid myself of medication and instead treat my ailment holistically. When I discovered the holistic treatments and followed the instructions to a "T" I couldn't believe how well it worked. A spark was ignited in me that year that lead me deep down the rabbit hole of health and fitness for years to come. I became so passionate about my findings that I eventually started a YouTube channel where I would rant about diet and exercise and how important it is.
Funny enough, I ultimately started my career because of an article I read titled "Top 10 Most Under Appreciated Careers". The article made me realize how much of a positive difference I could make as a personal trainer, appreciated or not! Haha! Not long after, I was in school for Exercise Science. During that time I picked up a job as a Wellness Coach at the French Creek YMCA and eventually became an actual NSCA Certified Personal Trainer!! I worked as a trainer at the YMCA for only 3 months before my vision of a better world of health and fitness gripped me. So on January 2014 Motivate Me Mike was born!! I'm just an ambitious motivator with a love of health and fitness and a gift for helping people. Your success is my success, and we shall both have our day in the sun!!
Train with Mike
Matt Kay
You are already on your way to being a better by seeking a trainer. I will customize a workout regimen for you for the times we meet, and the time apart! Proper training with the addition of nutritional guidance are the feature components in shaping a better you! I train at a location of your choosing, your house, workplace, the park, or your gym (if outside trainers are allowed). No matter the place, work can be done!

Going to the gym, or working out, should not be a struggle each day. To make it life long, it needs to be done in a way that can fit with other outside parts of one's life! Health and Fitness is not a sprint, its a marathon.
Train with Matt
Omar Williams
Hello, my name is Omar Williams. I offer a variety of services centered around fat burning and building lean muscle. I use a number of training techniques to help my clients achieve maximum fitness. In a given session will move from free weights to kettlebells to jump ropes to bands. Along with building lean muscle we focus on flexibility to prevent injuries and increase range of motion throughout the body. Below is a sample of what a one hour session looks like with me. 10 min - cardio/flexibility30 min - strength training10 min - core/boxing/HIIT/ropes/plyo/TRX10 min - cool down/flexibility. Before our session we do a health screening, body comp, and measurements to begin tracking your progress. I look forward to working with you along your journey to better fitness.

Healthy living and dieting are two different things. Healthy living is building a foundation that will sustain for years and prevent diseases. Dieting is building a quick and brief routine that will last until your special occasion passes. If you really want to change things it starts with your mindset. You have to live a healthy lifestyle not bounce from diet trend to diet trend.
Train with Omar
Beth Funari Sims
Effective workouts that are geared towards YOUR personal goals. I believe everyone deserves to feel and look like the best version of themselves and I design programs that will help clients do just that. Whether you'd like to tone up, lose weight or increase your energy we'll work together to establish a plan that works for your lifestyle. There is no "one size fits all" fix or magic pill when it comes to health and fitness.

Endorphins are everything.
Train with Beth
The Cleveland FYT difference
Find Your Match
Our approach is different. We recommend personal trainers in Cleveland based on you. Your goals. Your schedule. Your location. Your lifestyle. After all, this is personal training.
Find Your Match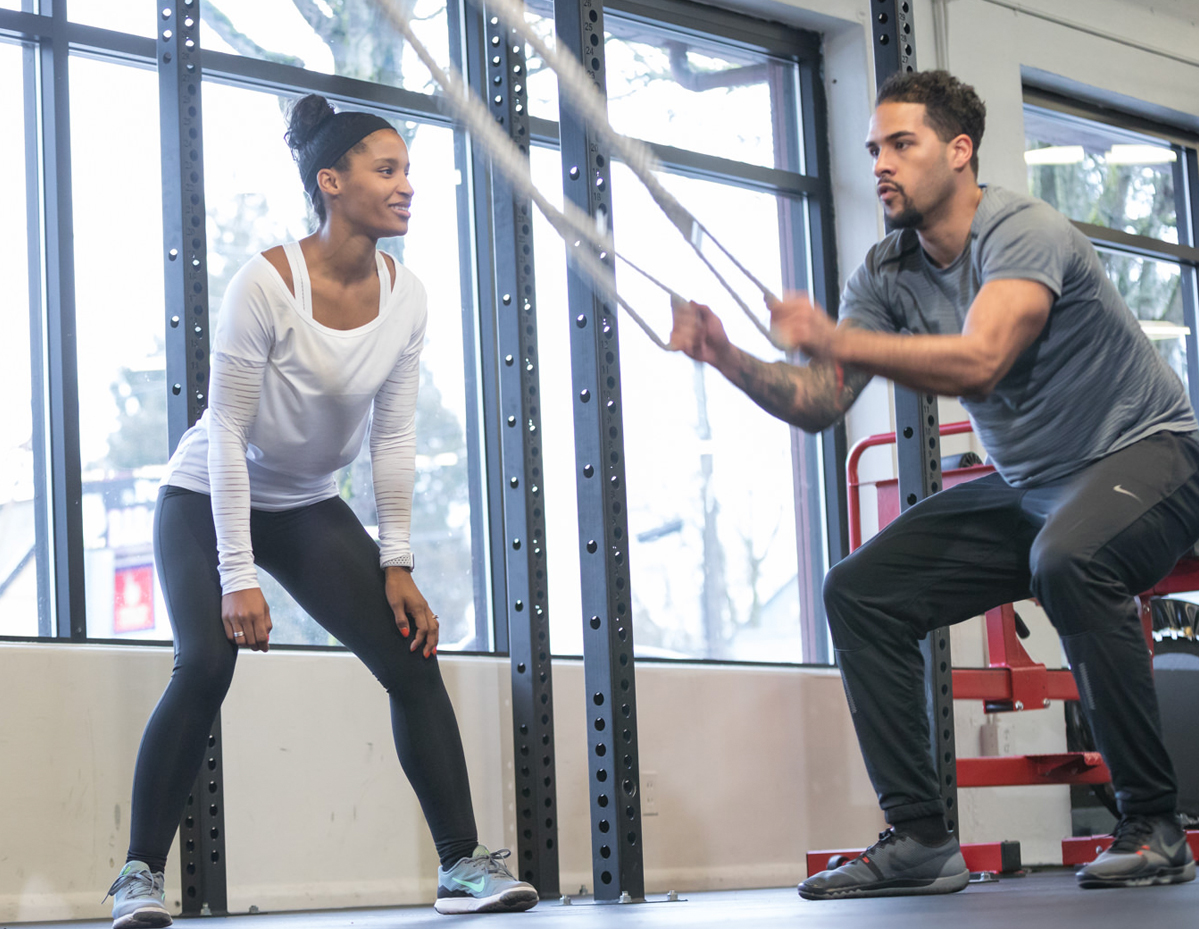 Find Your Trainer is proud to partner with the American Council on Exercise to achieve our shared mission to get people moving safely and effectively. With over 30 years of experience and over 70,000 professionals holding NCCA-accredited certifications, ACE continues to set the gold standard.
Learn More
Train In-Home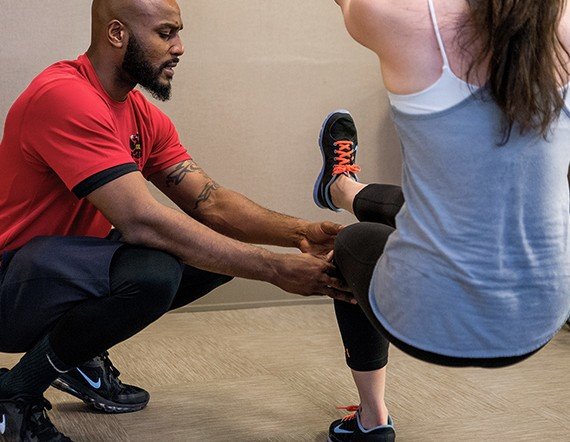 Our trusted and vetted Cleveland personal trainers will meet you at your home, office, hotel or at the park. Schedule when and where it's most convenient and comfortable for you. And we even bring all the equipment.
About In-Home Training
Simple & Affordable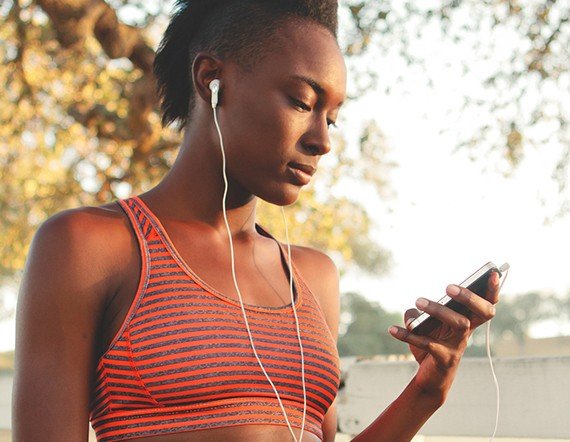 Search, schedule & pay for personal trainers in Cleveland all from your desktop or mobile device.No sales pitches and no back and forth. No memberships. No contracts. No expensive packages.
Trusted & Secure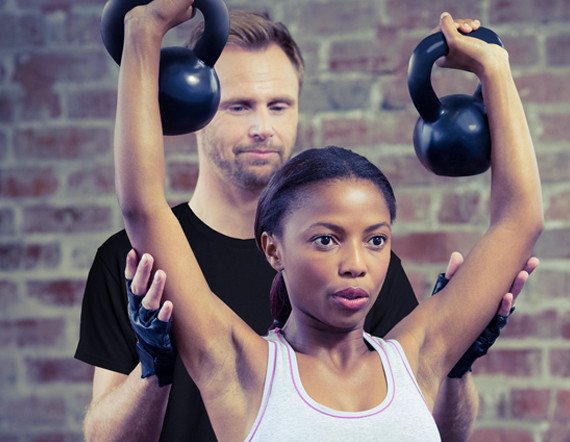 Pay securely and train safely with a vetted and insured Cleveland personal trainer.
WHY YOU NEED A PERSONAL TRAINER
Faster
"My trainer is committed to getting the most out of the workouts and to reach beyond what I'd otherwise do by myself."
-ERIC M.
Exercising with personal trainer is the fastest and most effective way to increase your strength, cardiovascular fitness, and lean body mass.1 Period.
Effect of supervised, periodized exercise training vs. self-directed training on lean body mass and other fitness variables in health club members. J. Strength Cond Res. 2014 Jul;28(7):1995-2006.
Stronger
"I've been challenged. I've exceeded what I thought were my capabilities. I'm stronger now than I've ever been. I've never felt better."
-PATTY D.
Do things you never thought possible. Run that race. Fit into clothes you love. Get ready for that big day. Feel stronger and healthier than ever.
Smarter
"I love the personalization I get with each workout. My trainer is flexible to work with and welcomed me at my level of fitness so I didn't feel intimidated. But my trainer also pushes me farther than I ever thought I could go."
-TIFFANY R.
The right personal trainer will observe where you're at and take you where you want to be with a tailor made plan to help you to achieve your goals based on your body and your lifestyle.
Safer
"I was educated on the value of proper form and technique and couldn't have gotten to the point I'm at without personal training."
-KEVIN T.
Personal trainers specialize in the sweet spot between knowing your limitations and pushing you to the next level. You will always be improving and focusing on thoughtful training as a means of staying injury-free.
...And Fun!
"Every workout is a little bit different so my body and brain don't have time to dread what's coming! It's fun and interesting and, most importantly, super effective and efficient."
-MAGGIE G.
We know what physical fitness is about more than a workout. In order to see the results, consistency is key. A trainer will keep your workouts fun and challenging so that you stay motivated to achieve your goals.
THESE THINGS COST ABOUT THE SAME AS A PERSONAL TRAINING SESSION
There are splurges and necessities. All of the below items are similar in price to a training session but won't make you feel half as good. Invest in yourself!
MOVIE TICKETS & POPCORN FOR TWO
DINNER OUT AT A RESTAURANT
20 Cleveland Personal Trainers