Michigan Personal Trainers. Delivered.
Find Your Trainer delivers you the best personal trainers in Michigan.
Train with a vetted and certified personal trainer
anywhere - a gym, your house, office, hotel or outdoors.
How Find Your Trainer Works
Find Your Match
Find the perfect personal trainer near you based on your goals, your personality, your lifestyle and your body.
Train Anywhere
Work out with trusted and vetted local trainers at your home, building gym, outdoors, or the gym. We'll bring the equipment.
Book & Pay With Ease
Effortlessly book and pay for a training session directly from the trainer's profile.
The Best Personal Trainers in Michigan
Michigan's Top In-home Personal Trainers
Best of 2018 - Check out these highly rated in-home personal trainers in Michigan
Steven Climer
Yes, I'm 50!
I've been dedicated to the gym and fitness since the age of 15, competing for the first time at the age of 22. I took off 20 years to raise my kids but now I'm competing again. I'm also a NASM certified personal trainer, here to help you.
Not only am I 50, I was diagnosed with a rare form of Limb-Girdle Muscular Dystrophy in my early 40s. Talk about irony. However, I learned to train around my shortcomings and thrive once again. My philosophy for personal training is: it's not hard but it is work. No one is going to give it to you, but together we can determine your goals and build a program to reach your dreams whether it is losing weight, building muscle, getting more fit to do more activities, or even compete! Don't be shy, ask me anything when you see me.
Train with Steven
Matt Kovach
I am a Certified Personal Trainer through the American College of Sports Medicine and I also have a Bachelor's of Science in Exercise Science.

My coaching and programming isn't designed to make you workout for 2 hours a day or make you vomit. My coaching is to ACCURATELY and PRECISELY design you a program outlining the workouts you need to do and how long they should be. I will also provide the specific numbers that need to be tracked like calories burned and consumed, body weight, etc. This is to make sure you are making progress each week. We want to avoid over training but we also want to make sure we are doing enough.
Train with Matt
Ashley Hardy
Self-made fitness trainer and motivator, very hard working and strong. Addicted to becoming the best version of me through challenging myself through life experiences on my fitness journey. I'm very passionate about inspiring others around me to live a healthy lifestyle and to not be afraid of change. Consistency is key and allowing yourself to grow at all times when uncomfortable moments set in.
Train with Ashley
David Miller
My background in physical training started when I was younger and racing in the Michigan District 14 motor cross events. I was in the top ten standings for over 6 years. During that time I had the privilege of training with personal strength trainers who were currently showing in body building for Mr Lansing competition, and I've learned a lot of strength techniques from them that I use today. I also am currently very involved in cross training with on and off road bicycling, gym streangth training, swimming, water skiing, and yoga. As I work with clients and have personally seen real physical changes take place that prove the benefits of a good scientific based training program, I am more convinced that what ever kennetic chain disfuntions a person might have accured through life can be changed or at least prevented. By observing an individual's posture both with and without movement, I can identify areas of a persons body that needs to be focused on in order to restore postural alignment, allowing the nervous system to accuratly communicate with the muscular system, and produce more efficient movement patterns.
Train with David
Lynda Gronlund-Naeem
Lynda Gronlund-Naeem is the owner and founder of BalancePoint Fitness. She has been an ACE certified Personal Trainer since 2008, an ACE Weight Management Specialist since 2014, Precision Nutrition Coach since 2017, and has worked with clients of all ages to help them meet their fitness goals. Lynda also owns PKSA Karate Ann Arbor and is a third degree black belt and certified martial arts and self-defense instructor.

Lynda is a supportive coach, not someone who will yell and intimidate in order to get results. She is passionate about empowering people to be good stewards of their bodies and achieve anything they set out to do.
Train with Lynda
Hermalinda Davis
A certified Professional Health Coach, who is skilled with aspects of weight management, exercise science, nutrition and behavior modification. I'm a passionate advocate for wellness and worklife balance, who encourages positive health parameters for my clients. I am well versed in the critical components involved to pursue a wellness lifestyle, being expressly skilled in motivation that encourages long-term behavior change.
Train with Hermalinda
Cari Draft
Cari Draft is one of the West Michigan lakeshore's most active and community-involved personal fitness trainers!

While she is founder & owner of EcoTrek Fitness (unique outdoor group workouts with several series all over Michigan) she also trains numerous fitness clients one-on-one, ranging from marathon runners to men & women of all ages interested in making lasting lifestyle changes.

She is an ACE-certified personal fitness trainer, American College of Sports &?Fitness member, and is also an American Red Cross CPR Certified Instructor.

A member of several local Chambers of Commerce and networking groups, her bachelor's degree is from Grand Valley State University, where she served for 15 years on the Alumni Board and was given the Alumni Service Award in 2003. In 2010 Cari won the Presidential Council on Health & Fitness Community Leadership Award (only 50 awarded annually across the nation) and was a 2010 Grand Rapids Chamber of Commerce EPIC Woman-Owned Business of the Year Award Nominee as well as 2010 ATHENA Award Nominee in both the Grand Rapids and Lakeshore Chambers of Commerce. In May 2012, Cari and her company, EcoTrek Fitness, were one of only 3 organizations in the state named 2012 Governor's Fitness Awards/Michigan Fitness Council Extraordinary Event/Organization Award Honoree. In June 2012, Cari was one of 12 women nominated as West Michigan Woman Magazine's Most Influential Woman! In October 2013, Cari was an Honoree at the GVSU Women in Sport and Physical Activity event, as well as the Keynote Speaker. Follow Cari on her social media channels for more positive lifestyle inspiration.
Train with Cari
Davies Haninga
I became a Personal Trainer on January 5, 2018, but my love for fitness and wellness started in 2008. I have worked out at several fitness centers through out the years and I've always wanted to be a trainer for years, but because of other education commitments, I put the personal training ambitions on the side. I have a Bachelors Degree in Business Administration and I will be working on my Masters Degree in Information Systems starting Summer 2018. I decided to become a Personal Trainer because I love fitness and I believe that I can use this love to help other people achieve their fitness goals. I want to safely share my passion and love for fitness as well as the knowledge I have gained from the American Council on Exercise.
Train with Davies
The Michigan FYT difference
Find Your Match
Our approach is different. We recommend personal trainers in Michigan based on you. Your goals. Your schedule. Your location. Your lifestyle. After all, this is personal training.
Find Your Match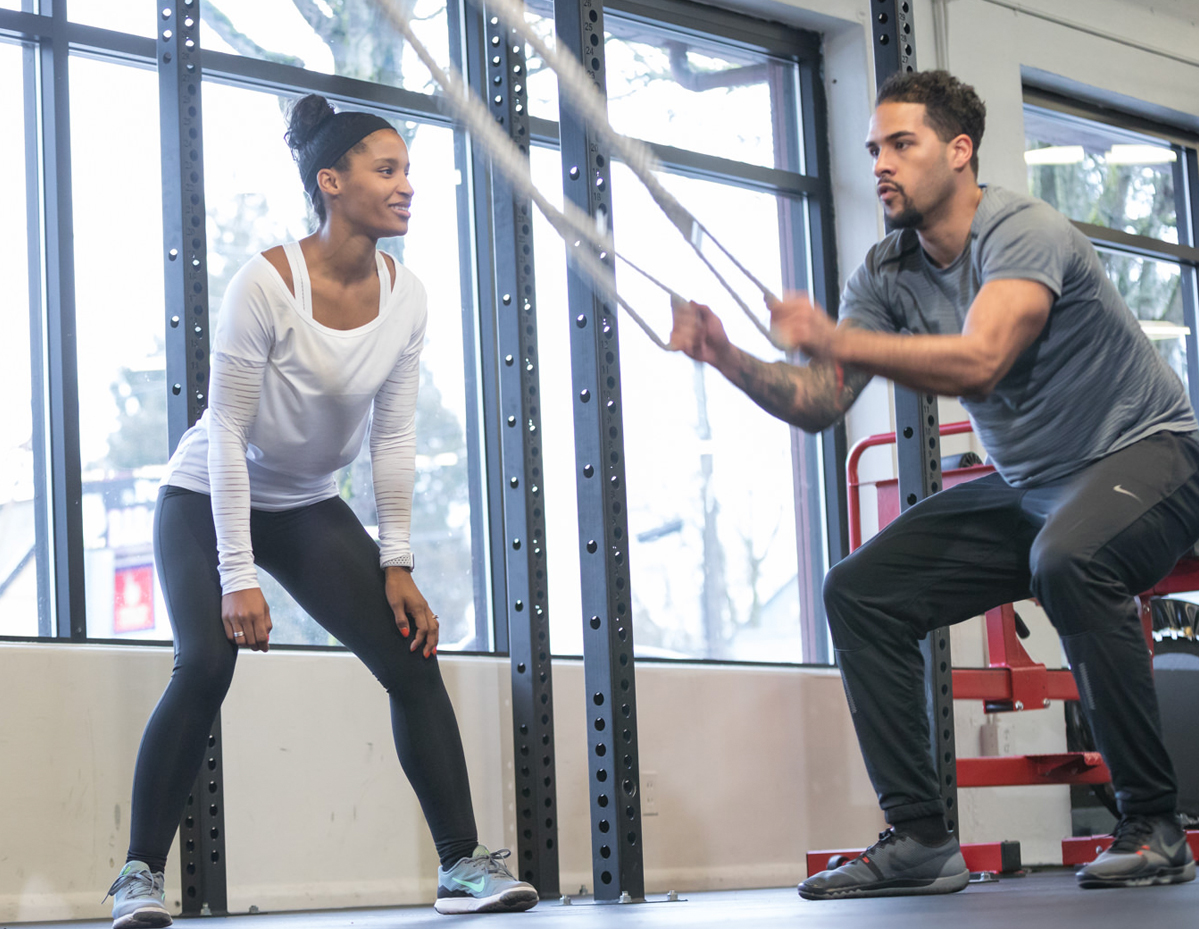 Find Your Trainer is proud to partner with the American Council on Exercise to achieve our shared mission to get people moving safely and effectively. With over 30 years of experience and over 70,000 professionals holding NCCA-accredited certifications, ACE continues to set the gold standard.
Learn More
Train In-Home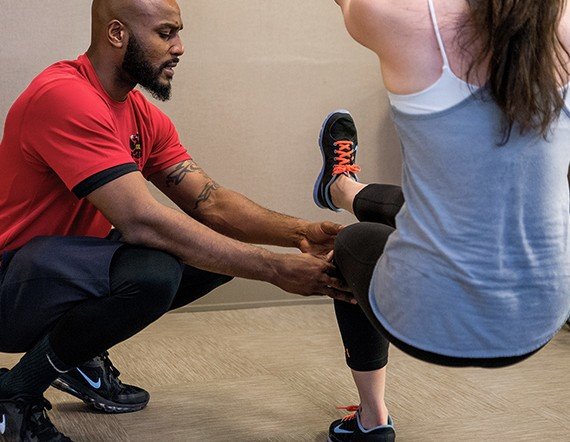 Our trusted and vetted Michigan personal trainers will meet you at your home, office, hotel or at the park. Schedule when and where it's most convenient and comfortable for you. And we even bring all the equipment.
About In-Home Training
Simple & Affordable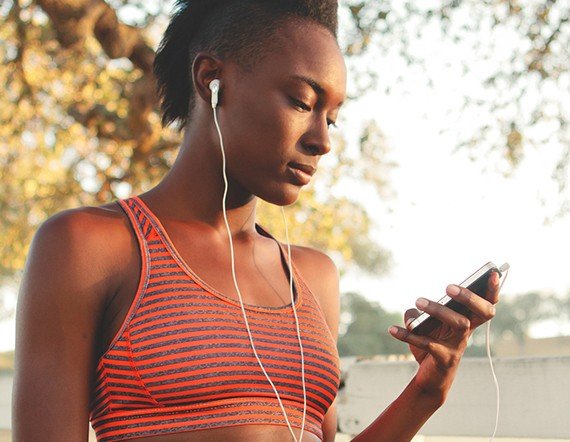 Search, schedule & pay for personal trainers in Michigan all from your desktop or mobile device.No sales pitches and no back and forth. No memberships. No contracts. No expensive packages.
Trusted & Secure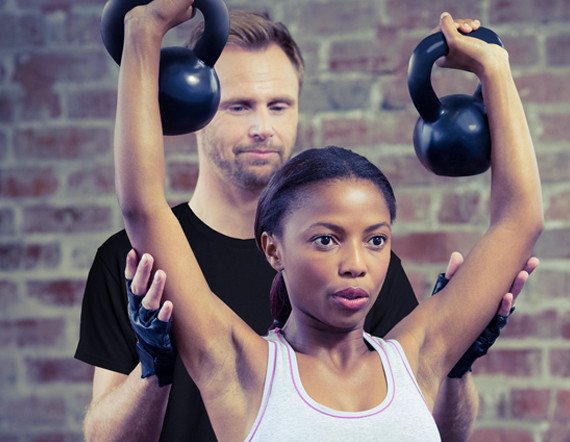 Pay securely and train safely with a vetted and insured Michigan personal trainer.
WHY YOU NEED A PERSONAL TRAINER
Faster
"My trainer is committed to getting the most out of the workouts and to reach beyond what I'd otherwise do by myself."
-ERIC M.
Exercising with personal trainer is the fastest and most effective way to increase your strength, cardiovascular fitness, and lean body mass.1 Period.
Effect of supervised, periodized exercise training vs. self-directed training on lean body mass and other fitness variables in health club members. J. Strength Cond Res. 2014 Jul;28(7):1995-2006.
Stronger
"I've been challenged. I've exceeded what I thought were my capabilities. I'm stronger now than I've ever been. I've never felt better."
-PATTY D.
Do things you never thought possible. Run that race. Fit into clothes you love. Get ready for that big day. Feel stronger and healthier than ever.
Smarter
"I love the personalization I get with each workout. My trainer is flexible to work with and welcomed me at my level of fitness so I didn't feel intimidated. But my trainer also pushes me farther than I ever thought I could go."
-TIFFANY R.
The right personal trainer will observe where you're at and take you where you want to be with a tailor made plan to help you to achieve your goals based on your body and your lifestyle.
Safer
"I was educated on the value of proper form and technique and couldn't have gotten to the point I'm at without personal training."
-KEVIN T.
Personal trainers specialize in the sweet spot between knowing your limitations and pushing you to the next level. You will always be improving and focusing on thoughtful training as a means of staying injury-free.
...And Fun!
"Every workout is a little bit different so my body and brain don't have time to dread what's coming! It's fun and interesting and, most importantly, super effective and efficient."
-MAGGIE G.
We know what physical fitness is about more than a workout. In order to see the results, consistency is key. A trainer will keep your workouts fun and challenging so that you stay motivated to achieve your goals.
THESE THINGS COST ABOUT THE SAME AS A PERSONAL TRAINING SESSION
There are splurges and necessities. All of the below items are similar in price to a training session but won't make you feel half as good. Invest in yourself!
MOVIE TICKETS & POPCORN FOR TWO
DINNER OUT AT A RESTAURANT
26 Michigan Personal Trainers