Iowa Personal Trainers. Delivered.
Iowa
Find Your Trainer delivers you the best personal trainers in Iowa.
Train with a vetted and certified personal trainer
anywhere - a gym, your house, office, hotel or outdoors.
How Find Your Trainer Works
Find Your Match
Find the perfect personal trainer near you based on your goals, your personality, your lifestyle and your body.
Train Anywhere
Work out with trusted and vetted local trainers at your home, building gym, outdoors, or the gym. We'll bring the equipment.
Book & Pay With Ease
Effortlessly book and pay for a training session directly from the trainer's profile.
The Best Personal Trainers in Iowa
Iowa's Top In-home Personal Trainers
Best of 2017 - Check out these highly rated in-home personal trainers in Iowa
Patrick Raney
I have worked with a wide variety of clients ranging from weight loss to increased mobility with seniors. I am the head trainer and director of a fitness club and have over 8 years of experience. I offer in-home sessions or can help you at the club. Would love to offer a complimentary consultation in person or over the phone to take that first step towards reaching your goal.
Train with Patrick
Lynn Block
Lynn is an instructor of fitness, and yoga with over 20 years experience, and has been passionate about fitness since college. I holds a BA in Education from Coe College, and a Masters in Educational Psychology, from University of Northern Iowa. I began teaching fitness classes in 1994. I am certified as Group Exercise Instructor through American Council on Exercise (ACE) and American Fitness Association of America (AFAA). Lynn holds a Personal Trainer Certification through American Council on Exercise(ACE) since 1996. I also hold many fitness certifications, including Les Mills, Barre Above™, and Cycling. Recently, I completed 200 hour yoga training through Yogafit in 2017.

My training style is inclusive, and goal oriented. I have a wide variety of experience with many special populations, including women, athletes, and seniors, those with arthritis and other conditions.
Train with Lynn
Julie Troendle
A customized training plan - based on your wants, needs, resources, and goals. I emphasize natural and holistic health, incorporating exercise, nutrition, lifestyle, and mind-body connection. My clients choose which areas they are most interested in, ranging from one to all areas.

I focus on natural health and personal fitness. The body that comes with it is a great bonus. Fitness should be fun and practical. I emphasize a primal perspective with functional, effective movement.
Train with Julie
Kate Schultz
Kate will develop a customized in home program to maximize your strength, flexibility, balance and agility for family events, golfing, gardening, even housework. Through fitness your life can be safer, easier and more enjoyable.


Train with Kate
Christopher Severn
My specialty is providing coaching through assessment. Individualization is the foundation for the programming I provide for my clients. Many people come in with their own goals in mind. I help them break those down into actionable, achievable items. I try to view my clients as a whole person, taking into account every facet of their lives. That's why we don't just focus on movement; education about nutrition, sleep, stress, and metabolism helps to provide a comprehensive approach.


Train with Christopher
Josh Sax
Primary focus of training is on total body working with various types of conventional and unconventional equipment to challenge the body with a metabolic workout.


Train with Josh
Angie Gallagher
As a Fitness Leader in the Des Moines Area, I have over 15+ years experience helping others reach/maintain their fitness and health goals. My goal is to help each client identify, reach, and maintain their health and fitness goals. Modifications are given to EACH individual, ensuring appropriate exercises are prescribed, and creating a safe, positive, and encouraging environment. FIT4LIFE is Angie's own philosophy and approach to a program that is based on making true lifestyle changes. It's about customizing exercises to each individual, boosting confidence, strengthening the entire body, increasing endurance, expanding flexibility, and most of all making a healthy change to affect the quality of each person's life.
Train with Angie
Patrick Hill
After being in the health/fitness industry for over 10 years, I've seen the frustration people go through when they're being fed misinformation, weren't being listened to, or were just being rushed through their sessions. I'm tired of people being pressured and manipulated into paying for unnecessary products and services. So, I decided to take a stand, and start my own business. Now, I can take the time to truly listen to you, give you the honest answers, and finally get you moving in the right direction. As a Doctor of Physical Therapy and Advanced Health and Fitness Specialist with 9 years of education, I've done the research. And with more than 10 years of practical experience as a personal trainer and physical therapist, I've seen what works and what doesn't. Now let me use what I've learned to help you finally reach those goals you've been striving for, regardless of the obstacles in your path. And if those obstacles are related to pain issues, we may be able to have your insurance help cover the costs. Simply put, I am a Physical Therapist and Personal Trainer who will come to you wherever you're most comfortable (or use my home workout studio), work with you to develop a comprehensive exercise program, and provide you with whatever help is needed to make sure you reach your goals. I offer both personal training and physical therapy services, as well as, guidance for other key lifestyle changes. I work with a wide range of people, from the elderly patient with numerous ailments to the elite athlete seeking to push himself to the next level. So if you're ready, no more playing around with the latest gimmicks, following recommendations from biased websites, or taking advice from your good-intentioned (but misinformed) peers. When you want to do it right, see a professional. Let me help you make it happen

While I do take my business of personal training and home physical therapy very seriously, I think you have to have fun on your journey to wellness.
Train with Patrick
Amanda Saxton
"Whatever your goal is - I will get you there. It will be work, it will take commitment, it will be flexible but structured and most importantly IT WILL BE WORTH IT! Personal Training isn't about how many sessions you do a week, its about providing the support system to your success in the most efficient and safe way possible. Educating you so you can move though life, continue to live healthy, full of energy doing the things that you want to without worry is my goal and making it fun along the way". "We are all as unique as our fingerprints. I enhance personal training by creating you a personal fitness program that is grounded in the truths of human movement. I address your real-life needs with real-life three dimensional training. I understand the science to train you properly, safely, and effectively. "
Train with Amanda
The Iowa FYT difference
Find Your Match
Our approach is different. We recommend personal trainers in Iowa based on you. Your goals. Your schedule. Your location. Your lifestyle. After all, this is personal training.
Find Your Match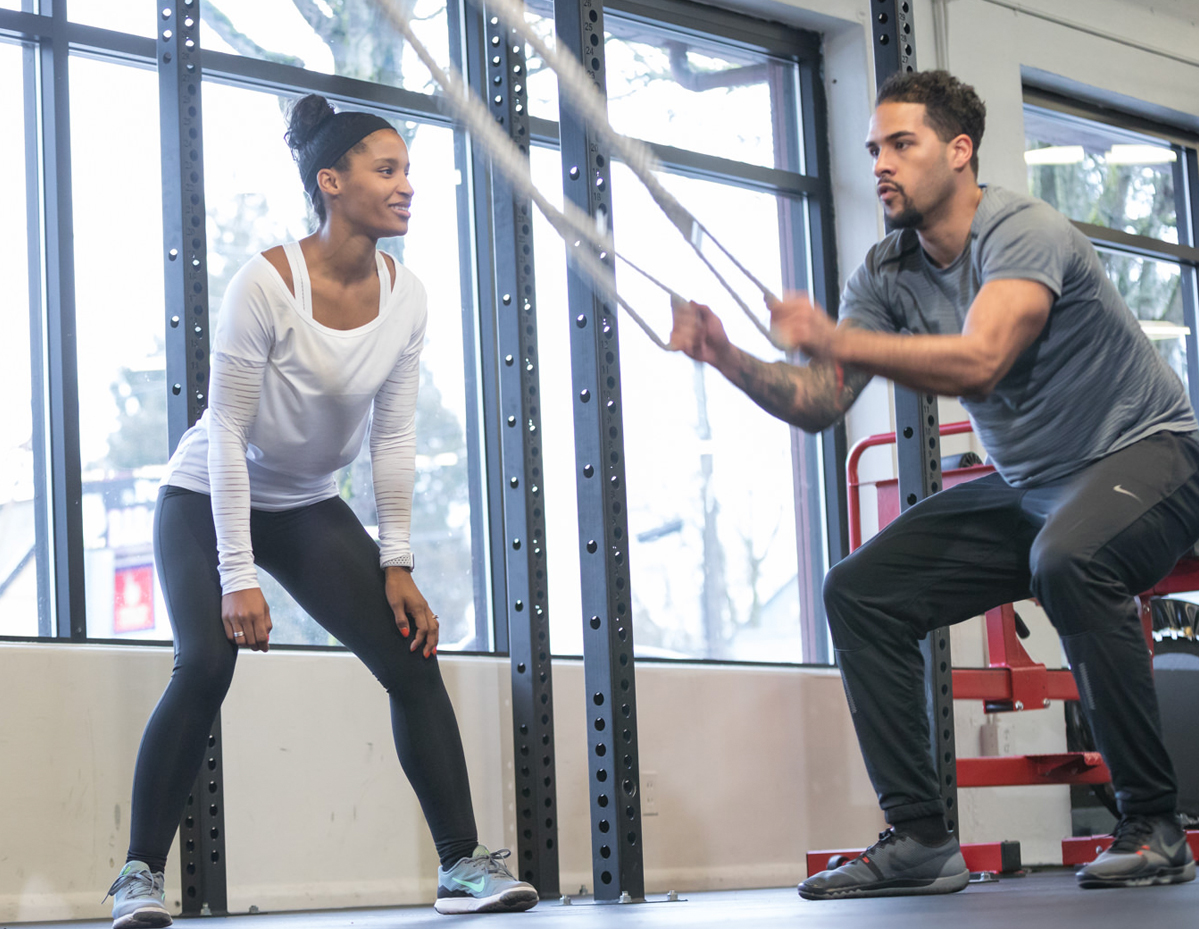 Find Your Trainer is proud to partner with the American Council on Exercise to achieve our shared mission to get people moving safely and effectively. With over 30 years of experience and over 70,000 professionals holding NCCA-accredited certifications, ACE continues to set the gold standard.
Learn More
Train In-Home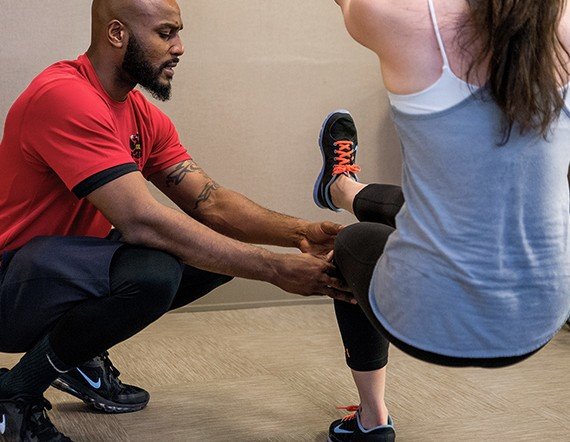 Our trusted and vetted Iowa personal trainers will meet you at your home, office, hotel or at the park. Schedule when and where it's most convenient and comfortable for you. And we even bring all the equipment.
About In-Home Training
Simple & Affordable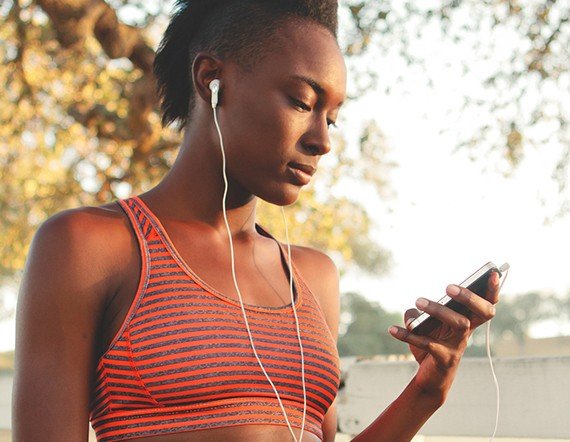 Search, schedule & pay for personal trainers in Iowa all from your desktop or mobile device.No sales pitches and no back and forth. No memberships. No contracts. No expensive packages.
Trusted & Secure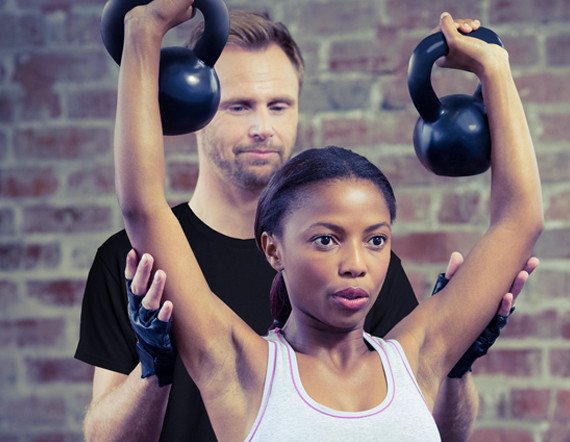 Pay securely and train safely with a vetted and insured Iowa personal trainer.
WHY YOU NEED A PERSONAL TRAINER
Faster
"My trainer is committed to getting the most out of the workouts and to reach beyond what I'd otherwise do by myself."
-ERIC M.
Exercising with personal trainer is the fastest and most effective way to increase your strength, cardiovascular fitness, and lean body mass.1 Period.
Effect of supervised, periodized exercise training vs. self-directed training on lean body mass and other fitness variables in health club members. J. Strength Cond Res. 2014 Jul;28(7):1995-2006.
Stronger
"I've been challenged. I've exceeded what I thought were my capabilities. I'm stronger now than I've ever been. I've never felt better."
-PATTY D.
Do things you never thought possible. Run that race. Fit into clothes you love. Get ready for that big day. Feel stronger and healthier than ever.
Smarter
"I love the personalization I get with each workout. My trainer is flexible to work with and welcomed me at my level of fitness so I didn't feel intimidated. But my trainer also pushes me farther than I ever thought I could go."
-TIFFANY R.
The right personal trainer will observe where you're at and take you where you want to be with a tailor made plan to help you to achieve your goals based on your body and your lifestyle.
Safer
"I was educated on the value of proper form and technique and couldn't have gotten to the point I'm at without personal training."
-KEVIN T.
Personal trainers specialize in the sweet spot between knowing your limitations and pushing you to the next level. You will always be improving and focusing on thoughtful training as a means of staying injury-free.
...And Fun!
"Every workout is a little bit different so my body and brain don't have time to dread what's coming! It's fun and interesting and, most importantly, super effective and efficient."
-MAGGIE G.
We know what physical fitness is about more than a workout. In order to see the results, consistency is key. A trainer will keep your workouts fun and challenging so that you stay motivated to achieve your goals.
What Our Clients Are Saying
THESE THINGS COST ABOUT THE SAME AS A PERSONAL TRAINING SESSION
There are splurges and necessities. All of the below items are similar in price to a training session but won't make you feel half as good. Invest in yourself!
MOVIE TICKETS & POPCORN FOR TWO
DINNER OUT AT A RESTAURANT